Mexico says it's not paying for Donald Trump's wall. Again.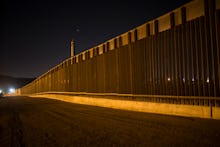 Mexico reiterated on Tuesday that it will not pay a dime for President Donald Trump's proposed border wall, with the country's foreign minister going one step further to describe the wall's construction a "hostile" act, Reuters reported.
The country has repeatedly made clear that it has no intention to foot the bill for the proposed wall's construction, despite Trump's insistence that they will.
Back in January, Mexican President Enrique Peña Nieto said "Mexico does not believe in walls" and that the country would not pay for it.
Peña Nieto's comments came after Trump signed an executive order calling for construction of the wall and asking federal agencies to find existing federal funding "for the planning, designing and constructing of a physical wall along the southern border."
Despite the fact that Mexico has made its stance abundantly clear, Trump remains certain the country will change its tune, tweeting on Sunday that the country will pony up the cash "in some form."
"Eventually, but at a later date so we can get started early, Mexico will be paying, in some form, for the badly needed border wall," Trump tweeted.
For now, Trump is seeking funding from Congress to pay for the wall, which has an estimated price tag in the tens of billions of dollars.
But with little appetite in Congress to allocate that funding just a few days before the federal government faces a potential shutdown, Trump appears open to putting off a funding fight for the wall until the fall.