Yale grad students begin starving themselves to force union negotiations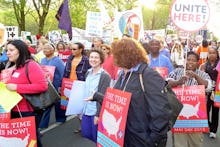 Graduate students are a source of cheap labor for universities, and in the past few years, those graduate students are organizing, unionizing and demanding more workplace equity at the nation's wealthiest universities. 
No shock: Those universities are putting up a fight.
A slew of graduate student teachers at Yale University began fasting on Tuesday night in an attempt to force the university into negotiation with their union, called Local 33. The university has spent months denying the legitimacy of the union, which is demanding equal pay, comprehensive healthcare and institutional protection for women and minorities in higher education.
"This is an indefinite fast, and we'll go until the university sits down with us," Charles Decker, one of the fasting graduate students, told Mic. "And if one of us can't continue, we have colleagues that will take our places." 
Even after the National Labor Review Board granted Local 33 the permission they needed to hold union elections, Yale is running a strong offensive to prevent the vote from being recognized as legitimate.
This kind of obfuscation is typical of companies preventing employees from forming a union — Columbia University also challenged its students' elections. But organizers have another theory about why Yale continues to run interference. They claim that Yale wants to wait until the Trump administration can place anti-labor appointees to the NLRB.
Mayors and lawmakers across the country have pledged support for the Yale unionization efforts, including a February letter of solidarity from Senator Bernie Sanders.
"I respect the critical work you do every day, and wish you the very best in your efforts to create a democratic workplace where your voice can really be heard," Sanders wrote.
Decker, who intends to fast until negotiations begin, is one of only 32 black men in the entire graduate school at Yale, and sees the union negotiations as an opportunity to get the university to seriously address its diversity problems for the first time in the six years he's been at Yale.
"We'll keep going until the University sits down and fulfills their moral and legal duty to sit down with us," he said.
April 26, 2017: A spokesperson with Yale University responded to Mic's request for comment, saying the fasting is "unwarranted by the circumstances" and that the university is still waiting for further review from the NLRB.
"My primary concern is for the health and safety of our students," University President Peter Salovey said via the spokesperson. "While I deeply respect their right to freedom of speech and expression, I urge our graduate students to reconsider this decision and to avoid actions that could be harmful to their well-being."