Russian hackers reportedly target Emmanuel Macron's campaign in French election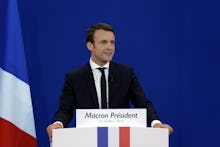 Emmanuel Macron — the pro-European Union centrist facing off against far-right nationalist Marine Le Pen in the second round of the French presidential election — was the target of Russian hackers, Time reported Tuesday.
According to Japanese antivirus firm Trend Micro, hackers linked to Russia created fake websites in an attempt to steal passwords and online credentials from Macron staffers.
Mounir Mahjoubi, digital chief for the Macron campaign, confirmed there were attempts to hack the campaign but said they were unsuccessful.
"It's serious, but nothing was compromised," Mahjoubi told the Associated Press on Monday night.
Though it didn't point its finger at any governments, Trend Micro said it was "very, very likely" a group called Pawn Storm — which U.S. intelligence considers a Russian spying organization — is behind the attempted hacks.
U.S. officials previously said the Kremlin interfered with the 2016 presidential election on behalf of then-candidate Donald Trump; the FBI launched an investigation into the Trump campaign's possible Russian ties back in July. Russian President Vladimir Putin has repeatedly denied any involvement in the U.S. election, and Kremlin spokesman Dmitry Peskov said Monday that allegations the country was now trying to influence the outcome of the French election are "utterly erroneous."
But Macron's opponent, Le Pen — like Trump in the U.S. — has expressed a desire to improve relations with Putin's government and would "undermine Western institutions" in the eyes of the Kremlin, Will Pomeranz of the Woodrow Wilson Center told CNN.
Macron led the first round of the election with 23.7% of the vote. He faces Le Pen, who earned 21.7%, in a runoff election on May 7.