China bans Muslim names in Xinjiang province to help fight terrorism. It won't work.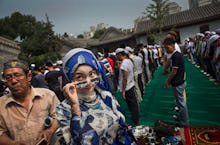 China has a whole different way of implementing a Muslim ban. They're banning Muslim baby names.
On Thursday, Chinese officials in Xinjiang — the Asian country's largest Muslim and Uyghur province — released a document titled "Naming Rules for Ethnic Minorities" prohibiting Arabic names used by Muslim parents worldwide. Uyghurs are a predominantly Muslim and Turkic ethnic group that live in East and Central Asia. 
According to Radio Free Asia, popular Muslim names like Islam, Quran, Mecca, Jihad, Imam, Saddam, Hajj and Medina are now banned. Names that refer to the star or crescent moon are also banned. A full list of banned names has not yet been published and it's still not clear what classifies as a religious name, the Guardian reported. Children who hold a banned Muslim name will be denied access to social services, housing and education. 
Human rights groups, like the Human Rights Watch, have already condemned the ban on Muslim names. "This is just the latest in a slew of new regulations restricting religious freedom in the name of countering 'religious extremism,'" Sophie Richardson, HRW's China director, said in a statement. "These policies are blatant violations of domestic and international protections on the rights to freedom of belief and expression."
The name ban is in response to a spate of violent incidents in the Xinjiang province that Chinese officials have blamed Islamic militants and Uyghur separatists for. Uyghur advocacy groups disputed these incidents as a result of local grievances and not part of a wider campaign against non-Muslims or the Chinese. Some groups have also said political unrest in the Xinjiang province is in response to regressive policies put in place by the Chinese government.
This isn't the first time that Muslim names have been banned in China. In 2015, Chinese authorities in the Hotan prefecture, a region within Xinjiang, banned 22 specific Muslim names. Names like Hussein, Saddam, Fatima and Khadicha were banned. 
And it's not the first ant-Muslim policy implemented in Xinjiang. At the end of March, Chinese officials announced a ban on beards for Muslim men and veils for Muslim women in public spaces as another crackdown on "extremism." It also banned Muslims from refusing to watch television. In June 2015, Chinese officials also banned Ramadan — the holy month of fasting for Muslims — and ordered Muslim-owned restaurants to remain open.
Several foreign policy experts have questioned Chinese counterterrorism policies that the authorities are exaggerating the threat of Islamic extremism in the Xinjiang province. "I assume there are Uyghurs joining ISIS, but I also assume the numbers are quite small in comparison to other groups throughout the world," Sean Roberts, a professor at George Washington University, told the Wilson Quarterly, a foreign policy magazine. "We're probably talking about 20 to 30 people max."
Other scholars, in fact, believe repressive anti-Muslim policies — like the name ban — are exactly what fuels the violence China hopes to defeat.