Best places for millennials: 5 cities where young folks thrive relative to older Americans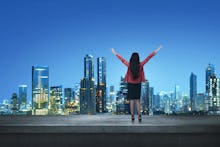 You already knew the narrative of the lazy, basement-dwelling millennial was unfair, but it might also be wrong — at least in some American cities: A new report from Trulia finds that certain millennials seem to be similarly or even less likely to live with parents than members of the generation above them were.
To arrive at its findings, Trulia took two groups — young workers aged 28 to 32 and older adults aged 33 to 55 — and compared how the groups differed over the last 55 years in areas like employment, homeownership and income.
Everyone is more likely to live at home when the economy is no good, so to really see how two generations might be different, you have to look at how young people fared relative to older individuals at a given time. In other words, it's not about the number, it's about the gaps: "We are the basement generation, and if you look at a percentage, yes ... It is higher than it's ever been before," Trulia housing economist Felipe Chacón told Mic in a phone interview. "But other generations are at all-time highs, too. It turns out millennials don't differ all that much."
Indeed, the gap between how likely different generations are to live with their parents has stayed remarkably similar over time. The reason? Chacón said younger workers are hit harder by economic downturns: "A lot of times they are bouncing back," Chacón said. "But if you hit the labor market in [a] recession, it's going to hurt you. And if you just got a job and the recession hits, you're more likely to lose it because you have no seniority."
For example, 14.5% of young workers lived with parents or grandparents as of 2016, compared to 5.5% of adults aged 33 to 55 — which means older millennials are about 2.7 times more likely to live at home than Gen Xers.
But when baby boomers were in the younger cohort back in 1982, young people were actually 2.8 times more likely to live at home than adults aged 33 to 35, according to the Trulia study.
Of course, living at home is only one way to measure financial health — incomes, education and homeownership rates are important, too. Trulia analyzed Census data to identify five metro areas out of the country's largest 100 where millennials have the best chance to own homes, have a college degree, be employed and make the most money, relatively speaking.
Here are the top five cities on the list.
5. Oklahoma City
Average income, age 28 to 32: $38,947
Oil-boom cities like Oklahoma City are great for young workers, Chacón said, because they're a reliable source of high-paying entry-level jobs. And while millennials' average income of $38,947 seems like a lot less than the $54,322 Gen Xers earn, the gap is much smaller in Oklahoma City than in areas like Bridgeport, Connecticut, where older workers make nearly twice as much as the younger cohort.
4. New Orleans
Average income, age 28 to 32: $38,914
In New Orleans, younger adults are far more likely to have college degrees, and it's helping them fetch higher earnings. However, the cost of living is a bit higher than in other top cities — only 35.7% of young people in the city own their own home. In Oklahoma City, that figure is closer to half. 
3. Omaha, Nebraska
Average income, age 28 to 32: $40,996
Cheaper housing and an abundance of corporate jobs have been kind to young people in Omaha, where about half of them own their own homes. They're also just less than two times more likely to live at home than adults aged 33 to 55, far lower than the national average of 2.7 times.
The wage gap between the generations is also relatively modest, with older millennials earning roughly 73% of what Gen Xers bring home.
2. Grand Rapids, Michigan
Average income, age 28 to 32: $37,771
Grand Rapids hits the sweet spot between affordable housing and decent-paying jobs, Chacón said. Fifty-seven percent of the younger cohort owns their own home, which isn't much lower than the 74.4% of the older group who can call themselves homeowners.
Older millennials also earn about 73% of Gen X salaries, making for a relatively modest wage gap, that could be easily overcome as millennials grow older.
1. Philadelphia
Average income, age 28 to 32: $44,053
To be fair, unemployment is high in Philadelphia, where 10.1% of the older cohort and 11.5% of younger adults are jobless. That's nearly double than the unemployment rate in midwestern cities like Grand Rapids and Omaha. 
But Philadelphia's older millennials are less than two times more likely to live at home than Gen Xers: below average. Chacón said Philadelphia millennials' success comes down to two major factors: an abundance of universities and far more blue-collar jobs than other college-dense cities like Boston.
Plus there's Philly's relatively affordable housing, fun activities, livability and gender equality — which have helped land the city on several other recent "best cities for millennials" lists.
Sign up for The Payoff — your weekly crash course on how to live your best financial life. Additionally, for all your burning money questions, check out Mic's credit, savings, career, investing and health care hubs for more information — that pays off.