9 of the best TV wedding episodes to watch on Netflix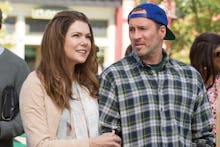 It's getting close to that fateful time of year known as wedding season. And whether one is a bride, a groom or just a random wedding guest, it's usually a pretty stressful few months. There's inevitably a ton of planning, travel and money spent on impending nuptials — all things strategically designed to raise blood pressure levels. 
So what's the best way to decompress after spending hours on a conference call with one's mother and wedding planner trying to decide if having Mason jars hanging from trees is tasteful or over-the-top? Simple: Why not plop down in front of the TV with a glass of wine, and watch fictional people go through the whole wedding rigmarole in a fraction of the time? 
For those who subscribe to Netflix rather than cable, here are nine of the best wedding episodes available to watch on the streaming service over and over again for inspiration.
In true Gilmore Girls fashion, Lane and Zack's wedding in season six, episode 19 of the series was full of joy and quirky eccentricities. The couple had to have two ceremonies to please Lane's Buddhist grandmother as well as her Catholic mother. So Lane wore a secret pull-away wedding dress designed by Lorelei, and Lorelei downed eight tequila shots and gave a super-awkward speech. It's a great example of how things don't have to go perfectly at a wedding for the wedding to be perfect.
There have been a total of six, yes, six weddings on Glee, leading to the foregone conclusion that getting married in (or around) high school is never the best idea. One, however, stands out because it's so ridiculous only one person could pull it off successfully (at least for a little while) — Sue marrying herself. Much like Queen Elizabeth I, Sue has always been all she ever needed to rule her kingdom — or glee club. 
Another example of a wedding where everything goes awry, but it doesn't matter one bit in the end. The wedding harpist goes into labor before the ceremony, Marshall accidentally gets frosted tips, then impulsively gives himself a reverse mohawk, and Lily's veil is ruined, but the couple still manage to have the ceremony of their dreams. 
"I, Ross, take thee Rachel." That pretty much sums up the reason to watch this hilarious wedding disaster episode. 
Things don't usually go as expected on the NBC comedy, so when April and Andy decided to throw a fancy party for their friends, there had to be a twist. Turns out it was a surprise wedding that actually ended up being much more adorable than anyone could've expected. 
It feels like Mindy and Billy spend an entire season planning their wedding day, but when it actually happens, it's everything one would hope a "Texas forever" wedding would be, complete with Stetson hats and fairy wings. 
Perhaps the most moving part of the Gilmore Girls reboot was the ending where Luke and Lorelai get married at long last. Granted, it doesn't quite happen the way they planned it (as many don't on this list), but that ends up making it all the more special. No spoilers for those who haven't seen it yet, but it would be a good idea to have tissues nearby. 
Jim and Pam get married at Niagara Falls, with the entire Dunder Mifflin crew behind them, and naturally comedic disasters ensue. Some of the most tender moments, however, come through the laughter (and frustration). One great moment in particular is when Jim cuts his tie after Pam's veil rips.
Monica and Chandler's wedding was one for the books, and not just because her dress was stunning and they were married by Joey in a bloody soldier uniform. Chandler gets cold feet, until he finds out Monica's pregnant (she isn't really, but he thinks she is). Even thought it initially terrifies him, he realizes anything that fits in a tiny onesie can't be all that scary. Of course he later finds out Monica's not actually the one who's pregnant, but that's a story for a different time. 
Mic has ongoing TV coverage. Please follow our TV main hub here.