Sony Music reportedly cuts ties with Dr. Luke — what that means for Kesha's legal battle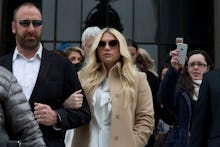 For more than two years, Kesha Sebert and Lukasz Gottwald, aka Dr. Luke, have been locked in legal battle after the pop singer leveled a series of allegations of emotional, physical and sexual abuse at her producer. The trial for Kesha's freedom is nowhere near over, but Sony Music, the corporate parent of Dr. Luke's Kemosabe Records, has made a major play to remove themselves from the fray. 
They're currently working to distance themselves from the controversial producer, according to a Tuesday report from the Hollywood Reporter. Dr. Luke is no longer the CEO of Kemosabe Records, the publication claims, and "a page devoted to Dr. Luke on Sony Music's website has also been taken down." However, an Entertainment Weekly piece insists that Sony "still has a relationship" with the producer, though his contract with the company expired in March. A source with knowledge of the matter clarified for Mic that Sony is not cutting ties with Kemosabe completely.
Where does Kesha's case stand?
While this may seem like a victory for the #FreeKesha movement, which has actively organized boycotts and protests against Kemosabe and Sony, Kesha is not out of the woods yet. The contract Kesha has been so desperately trying to break is not with Sony Music directly, but with Kemosabe Records. Scott Edelman, a lawyer representing Sony Music, detailed Sony's role in the ongoing case in a 2016 New York Times article: 
"Sony has made it possible for Kesha to record without any connection, involvement or interaction with Luke whatsoever, but Sony is not in a position to terminate the contractual relationship between Luke and Kesha ... Sony is doing everything it can to support the artist in these circumstances, but is legally unable to terminate the contract to which it is not a party.
Kesha's court papers have previously cited reports that Dr. Luke's contract with Sony was rapidly approaching an end, the Hollywood Reporter notes, which would leave her with no go-between that could potentially intervene on her behalf.
The ongoing trial has incidentally caused Dr. Luke's output to slow to a crawl. Once the go-to for singers like Katy Perry and Kesha, he's been working mostly with comeback projects, with his only (minor) hit in recent memory being R. City's 2015 "Locked Away." Meanwhile, Kesha's plea deals have been repeatedly rejected in courts, with her latest setback coming in March, when New York Supreme Court Justice Shirley Kornreich rejected Kesha's appeal to amend her claims. Her previous hate crime and human rights abuse case was thrown out in April 2016.
Reports that Sony was going to drop Dr. Luke ahead of its 2017 termination have been circulating since last year, with the producer's attorney insisting this was "not true," as the Wrap reported. "Luke has an excellent relationship with Sony. His representatives are in regular contact with executives at the highest levels at Sony and this has never come up." 
Additionally, as the Hollywood Reporter notes, Dr. Luke's defamation case against Kesha is still pending. In all likelihood, his team will focus on this break as proof that Kesha's rape accusations have in fact irreparably damaged the producer's career.
Mic has reached out to Dr. Luke, Sony Music and Kesha for comment and we'll update if we hear back.
Mic has ongoing music coverage. Follow our main music hub here.