'WWE 2K18' Roster: 10 Wrestlers who must be included in this year's game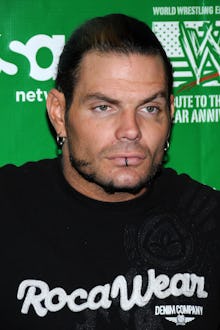 The past five years, the official WWE video games have released in October. Most often the release date has been the last Tuesday in October, with the exception of WWE 2K17 which released a little earlier on October 11.
We don't know who will be on the cover, though Roman Reigns seems like the logical choice, but no matter who is chosen as the cover star, the following ten wrestlers should be included in the game.
WWE 2K18 Roster: Jeff Hardy & Matt Hardy
The legendary tag-team made their way back to the WWE at WrestleMania 33, and they won the Raw Tag-Team Championship in a ladder match.
The duo is still over in a major way with the WWE Universe. Their move sets are one of the most fun to control in tag-team action. If they aren't included in the game, it will cause an uproar.
WWE 2K18 Roster: Kurt Angle
Having recently rejoined the WWE as the new Raw General Manager, Angle is yet another legend back in the fold with the promotion that helped make him a star.
Angle has not yet returned to the ring, and there's no indication he will, but in light of his recent Hall of Fame induction, it seems appropriate to include him on the game's roster.
WWE 2K18 Roster: Ember Moon
Along with NXT Women's Champion Asuka, Ember Moon is an exciting performer in the division.
She has a dynamic move set that would be a blast to control in the game, and her entrance dramatics could be recreated in a pretty special way as well.
If included, Ember Moon would be one of the few African-American females who are playable characters.
Right now, Sasha Banks, Alicia Fox and retired Hall of Famer Jacqueline are the only ones available.
WWE 2K18 Roster: Aleister Black
The man formerly known as Tommy End has everything it takes to be a star in today's era of professional wrestling. He could be the man to fill the gap left by CM Punk.
End is a mat wrestling genius with a dark persona that is all the rage among many fans in the industry.
WWE 2K18 Roster: Bobby Roode
The most "glorious" performer in NXT is the current men's champion, Bobby Roode. After strong runs with Impact Wrestling and other promotions, Roode landed with NXT in the early part of 2016, and he's been gaining popularity ever since.
Of all the NXT talent on the list, Roode is the one most deserving and necessary for the WWE 2K18 roster.
WWE 2K18 Roster: Akam & Rezar
Great NXT tag teams have yet to find major success with the major WWE brands (Raw and Smackdown). 
Factions such as The Shield and The Wyatt Family are a different story, but duos like The Ascension and American Alpha have gotten off to slow starts.
Could Akam and Rezar be different? It's possible, but nonetheless, any fan who watches NXT and plans on buying WWE 2K18 would probably miss the destructive team if they weren't on the roster.
WWE 2K18 Roster: Drew McIntyre
He just began his second stint with the WWE and, hopefully, things go better for Drew McIntyre this time. His first stint saw him win a championship only to be relegated to the mid card and ultimately released.
He's returned to the WWE on NXT and fans appear to be responding to him. McIntyre is a very good athlete with a solid move set. If you mix his popularity with exciting controls and you have a character that fans will want in the game.
WWE 2K18 Roster: Mandy Rose
Not since Trish Stratus made her debut in the WWE has there been a female prospect with the WWE who is as marketable as Mandy Rose.
She's a former fitness instructor who has been able to show a mean streak during her NXT matches.
Rose hasn't blown up yet, but 2017 could be a big year for her and that will make fans want to see her in the game all the more.
More sports gaming news and updates
Are you a sports gamer? Check out more content from Mic, including tips for leveling up your NBA 2K17 MyPlayer, playing quarterback in Madden 17, our review of MLB The Show 17 and the classic Nintendo sports games we want to see on the Switch.