Donald Trump's White House is giving up on that border wall, for now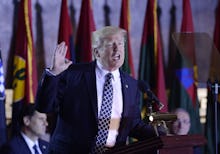 President Donald Trump's signature campaign promise — a huge, shiny new wall on the U.S.-Mexican border — is no longer on the table for this week's budget negotiations, CNN's Jake Tapper reported Tuesday evening on The Lead.
Mick Mulvaney, Trump's director of the White House's Office of Management and Budget, confirmed the president is willing to sign a budget for the remainder of 2017 that does not include funding for the project.
"The offer that we received from the Democrats the last couple days included a good bit of money for border security," Mulvaney said, adding funding would allow Trump "to follow through on his promise to make that border more secure."
When Tapper asked if Trump would sign a budget without funding for the wall, a much different expenditure, Mulvaney responded, "Yeah."
"We just thought that it would be a good first step to get these things that everybody agrees on and take that idea of a government shutdown off the table," Mulvaney continued, adding future negotiations on the wall would begin as "as soon as this bill is signed."
Mulvaney's statement seemingly puts an end to days of wavering from Trump's administration on the topic of the wall, which had always seemed more wishful thinking than sound policy and will potentially sideline further considerations on how to pay for it until at least September.
Trump not only promised on the campaign trail the wall would be one of his top priorities, but also that the U.S. taxpayer would contribute nothing toward its construction. Instead, he would force the government of Mexico to pay for it.
The government of Mexico has, obviously, refused to pay for it.
So, too, have Democrats in Congress, joined by some Republicans (including almost all legislators of both parties hailing from border states) who fear the project would be both costly and ineffectual. It has an estimated cost of at least $21.6 billion, with Senate Democrats claiming it will be closer to $70 billion. Trump directed the Department of Homeland Security to search for funding that could possibly be diverted to the project, but it only came up with a measly $20 million — about 0.1% of the projected cost.
Trump's issues finding support for funding have motivated some members of his administration to float strange solutions; this weekend, Attorney General Jeff Sessions floated the idea of investigating improperly doled out tax credits, which he claimed were going to "mostly Mexicans," as a way of generating funds.
On Monday, the president reportedly signaled he was open to constructing the wall later in his first term. In a recent series of defensive tweets, Trump suggested Mexico would pay "eventually, but at a later date ... in some form" rather than now and directly. He told his supporters "Don't let the fake media tell you that I have changed my position on the WALL."
Nearly two-thirds of Americans oppose the wall, according to Pew Research polling released in February, with just 35% in favor.