Evidence shows Assad forces used sarin gas in deadly attack, French official says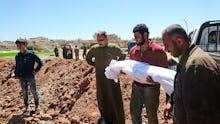 France's foreign minister said on Wednesday that evidence proves that the sarin gas used in a deadly attack on a rebel-held Syrian town in early April came from the regime of Syrian President Bashar al-Assad, Reuters reported.
The April 4 attack on the town of Khan Sheikhoun left more than 70 people dead, including 20 children, some estimates said, according to the Guardian. 
Citing a French report on Wednesday, French foreign minister Jean-Marc Ayrault told reporters that forces loyal to Assad's Syrian government "undoubtedly" used sarin gas in the attack on Khan Sheikhoun, Reuters reported.
"We know, from a certain source, that the process of fabrication of the samples taken is typical of the method developed in Syrian laboratories," Ayrault said, according to Reuters. "This method is the signature of the regime and it is what enables us to establish the responsibility of the attack. We know because we kept samples from previous attacks that we were able to use for comparison."
Assad has claimed that Syria has no chemical weapons and that reports that his forces used sarin gas in Khan Sheikhoun were "100% fabricated," the BBC reported.
Photographs and reports from the April 4 attack spurred a global outcry and prompted the United States to fire missiles at a Syrian military airfield on April 7.