The GOP thinks their health care bill is so great, they're shielding themselves from it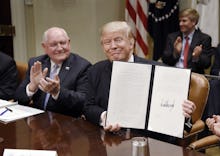 Republicans appear close to reintroducing an Affordable Care Act replacement bill — legislation they apparently think is so good for the country that they are protecting themselves from being impacted by it.
The new GOP-crafted bill would allow states to waive popular protections currently guaranteed in the ACA, known colloquially as Obamacare. Those protections include mandating that insurance plans cover so-called "Essential Health Benefits," such as prescription drugs and hospitalization, as well as preventing insurance companies from charging Americans with pre-existing conditions more for coverage.
If passed, that means insurance companies could charge Americans with pre-existing conditions more for insurance plans that might not even cover the services they need.
However, the GOP's new bill would not allow insurance companies to waive those protections for members of Congress and their staff. First uncovered by Vox, the exemption for members of Congress and their staff is hard to spot. 
Members of Congress and their staff are currently required to purchase their health care coverage through the ACA exchanges under section 1312(d)(3)(D) of the ACA. 
In the new Republican plan that the GOP says will fix what ails the ACA, there is a section that says, "In no case may a waiver ... apply with respect to any of the following provisions."
As it happens, Section 1312(d)(3)(D) is listed as one of those nine exempt groups:
It's still unclear whether the new Republican health care plan can pass the House, let alone the Senate.
Moderate Republicans in competitive House districts — who refused to vote for the original GOP repeal bill — are still wary of the new text, according to a report from Bloomberg.