56% of Americans think Russia tried to influence the 2016 election, new poll shows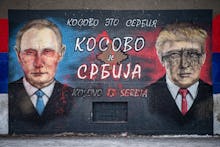 A new ABC News/Washington Post poll shows that more than half of Americans think that Russia tried to influence the 2016 presidential election — but the nation is sharply divided among partisan lines.
According to the poll, released Wednesday, 56% of Americans overall think that Russia tried to sway the U.S. election. But, broken down along partisan lines, the differences are striking: 83% of Hillary Clinton voters said they think Russia tried to influence the election compared with just 28% of Donald Trump voters.
Among those Clinton voters who believe Russia tried to interfere, 72% said they think Trump aides tried to help Russian efforts to influence the election. Only 4% of Trump voters thought the same.
The difference along the lines of candidate affiliation was similarly striking when it came to claims that the Obama administration had surveilled the Trump campaign. 
Trump has claimed, without evidence, that his predecessor wiretapped Trump tower in order to spy on Trump and his aides during the campaign. Intelligence officials have repeatedly asserted that Trump was not surveilled. Still, Wednesday's poll found that that idea has taken root among Trump supporters. A whopping 64% of Trump voters said they believed the Obama administration intentionally spied on the Trump campaign, compared to 10% of Clinton voters, the poll found.