What is "judge shopping"? Here's what Trump was tweeting about.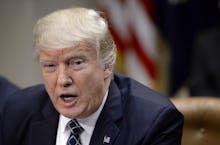 President Donald Trump's administration was dealt another legal blow on Tuesday when a federal judge in San Francisco blocked the president's executive order meant to deny funding to so-called "sanctuary cities," or local governments that take steps to shelter undocumented people from federal immigration enforcement.
In response to the ruling, Trump sent out a flurry of tweets early Wednesday morning criticizing the decision as a "ridiculous ruling" and claiming it was the result of "judge shopping."
So what, exactly, does that mean? The Associated Press reported on Wednesday that Trump's tweet is "apparently a reference to the 9th Circuit's liberal reputation and rulings that have often irked conservatives." But it's clear that Trump's anger is at least somewhat misguided.
The 9th Circuit is a federal appellate court with jurisdiction in several states, including Alaska, Hawaii, California and Oregon. Trump is accusing political opponents of "judge shopping" — more commonly called "forum shopping," a colloquial term for the practice of searching for a judge who will grant a favorable outcome — in order to get cases heard by the 9th Circuit.
But, as Politico reported on Wednesday, Judge William Orrick, who handed down the ruling blocking Trump's executive order on sanctuary cities, isn't actually on the 9th Circuit court, as Trump suggested. Although, as Politico reported, that court would hear the case next should the Trump administration choose to appeal.
Conservative outlets have accused the left of "judge shopping" in order to "thwart" Trump's policies. But, as some have already pointed out on Twitter, Tuesday's injunction was the result of the city of San Francisco suing Trump over his executive order, and the case was heard in San Francisco — it wasn't brought in from elsewhere for a friendly verdict.