Aretha Franklin and Dionne Warwick's feud over Whitney Houston explained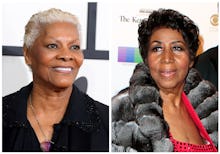 Aretha Franklin has reignited a feud with fellow veteran singer Dionne Warwick. The Queen of Soul said Warwick "lied" about Franklin's relationship to Whitney Houston at the late singer's funeral in 2012. Five years later, Franklin sent over a fax and made a phone call to the Associated Press to clear her name.
What happened at Whitney Houston's funeral?
"'Ree's not here, but she is here," Warwick said at Houston's memorial service. "She loves Whitney as if she were born to her. She is her godmother."
On Tuesday, Franklin told the AP that this statement wasn't true and that she believes the news around the comments in 2012 damaged her career. "She blatantly lied on me ... fully well knowing what she was doing." 
Franklin said she could not attend the funeral because she had a contract to perform at Radio City Music Hall. She was also dealing with a swollen foot issue. She added that she waited years to defend herself because she didn't want to bring any additional negative attention to Houston's death.
"There's been so much going on around [Houston], around the service, around the drugs, around her and Bobby [Brown] supposed to be fighting, I didn't want to add anything to that and I didn't want to be a part of that," she said.
Franklin even said she refused to hug Warwick at a Tribeca Film Festival event this past week because of what happened in 2012. In the meantime, Warwick has chosen not to reply to the news. 
"She will not dignify a response to the statement made by Aretha Franklin," her rep told AP.
Franklin and Warwick's history with Houston and more
Before Houston was born, Warwick and Franklin were part of the same generation of popular soul singers who rose to fame during the 1960s. 
Early in Warwick's career, she formed a singing group with her sister, Dee Dee Warwick, and Houston's mother, Cissy Houston. Warwick is also Whitney Houston's cousin. Later on, her solo career took off, with the success of her hit songs "Walk On By" in 1964 and her 1967 version of "I Say a Little Prayer." Franklin recorded a cover of "Prayer," released in 1968.
Franklin said she met Houston when she was a child, but noted she was never Houston's godmother because she was too busy for that job, the AP reported. Franklin, who held the most number-one hits for a female artist on the Billboard Hot 100 until Nicki Minaj surpassed her in March, has 73 hits on the chart. Franklin also ruled the charts in the 1960s with her rendition of "Respect" released in 1967, and "Chain of Fools" and "(Sweet Sweet Baby) Since You've Been Gone" in 1968.
Mic has ongoing Aretha Franklin coverage. Please follow our main Aretha Franklin hub here.