'Overwatch' Police Officer D.Va skin inspires heated fan debate over cop brutality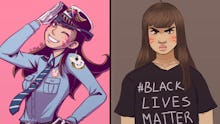 Starting May 1, Overwatch players can earn a special "Officer D.Va" skin for the tank hero D.Va that turns her into a cute-looking police officer — sirens and all. But some fans aren't on board. For them, it's a crude, insensitive reminder of the brutality Americans face at the hands of police every day.
So, is the Officer D.Va skin just a cute re-imagining of one of its heroes, or is it a tone-deaf mess? Let's discuss.
The Overwatch fandom's debate over new "Officer D.Va" skin
When Blizzard first revealed the Officer D.Va skin during its livestream for Heroes of the Storm, most fans were pretty quick to jump on board. After all, it's just D.Va dressed up in a cute costume with little, swirly lights on her MEKA — right?
In just a few short hours, tons of fan art started popping up on Tumblr showing D.Va looking spiffy in her blue uniform.
But then, some fans, like Tumblr user elliexer, pointed out that turning D.Va into a police officer is potentially fraught territory. After all, law enforcement has been the subject of a massive nationwide movement — Black Lives Matter — that seeks to end racial discrimination at the hands of police and roll back the increasing militarization of police forces.
Therefore, for some, turning the typically carefree and sprightly D.Va into what's become a symbol of brutality and racism doesn't make much sense. To voice their discomfort with the new D.Va skin, elliexer created a pretty striking illustration depicting D.Va in a Black Lives Matter T-shirt.
The Overwatch fandom is particularly well-known for being incredibly protective of its characters and passionate about their world's inclusivity, so there's always some kind of heated discussion around any of its new updates. But this skin's proximity to such a visible political issue increases that heat tenfold.
However, some fans — like Tumblr user runaway-jade and tenaflyviper — argued that D.Va isn't American, and thus should be allowed to exist outside the confines of the controversy surrounding police in America. In other words: Since D.Va is from South Korea, her police officer skin shouldn't be considered as any sort of statement on American law enforcement.
Mic has reached out to Blizzard for comment and will update with any response.
April 27, 2017, 11:55 a.m.: This story has been updated.
More Overwatch news and updates
For more on Overwatch, check out the rest of what Mic has to offer. Here is our Project Runway-style judging of every new Uprising skin, an unintentionally hilarious infographic showing the most popular Overwatch characters in each state, our definitive ranking of every Overwatch hero and a giant Overwatch FAQ for beginners.