Nintendo Switch Stock: Amazon rumored to receive supply restock in early May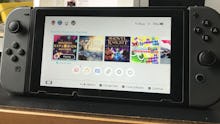 Nintendo Switch stock remains hard to find, but Amazon may soon have supply of the console. Joining stores like Target, Walmart and Toys R Us, the 1-click online retailer, famous for crazy stores from the future, will soon let you buy the Nintendo Switch again. The Nintendo Switch restock would be available near the release of Mario Kart 8 Deluxe.
Nintendo Switch stock: Amazon restock rumor details
Hints of a possible Nintendo Switch replenish on Amazon come to us via NintendoEverything. A reader chimes in with some intel they gained during a customer support chat. According to NintendoEverything user RobinWithN, Amazon buyers can expect Switch stock to start appearing "from the first week of May." 
May's first week wouldn't exactly make the Mario Kart 8 Deluxe release date of April 28, but would be close enough in case buyers missed their shot during the Target or Walmart refreshes.
As with all rumors, we recommend you take this with a grain of salt. While it's likely that, eventually, Amazon will get a restock of the Nintendo Switch, we'll have to wait for word from the company themselves.
We've reached out to Amazon and will update this post if we receive a statement.
Check out more Nintendo Switch news and coverage here
Looking for more Nintendo Switch news? Check out how blind gamers are using the Nintendo Switch. Nintendo's left Joy-Con issue turns out to be a hardware problem — here's how to solve it. Find out how to buy a console amidst the recent restock. Learn why the Switch cartridges taste so bad. Check out our comparison photos sizing up the Switch to the Wii U GamePad (part one and part two), or find out how to make use of ethernet without the dock and the best way to get alerts when new stock arrives.