You don't need to play 'HotS' to get the 'Overwatch' Officer D.Va and Oni Genji skins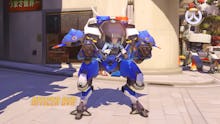 Don't have a computer that can run Heroes of the Storm? Are you feeling bummed that you won't be able to put in the time to earn that cute new Overwatch Officer D.Va skin or the Oni Genji skin? Don't worry. 
Overwatch director Jeff Kaplan just confirmed that players will be able to earn both skins through standard Overwatch loot boxes some time in the future — but you might have to wait a while.
Overwatch Officer D.Va and Oni Genji skins will eventually appear in regular loot boxes
An Overwatch player who plays on console posted to the forums, frustrated that they wouldn't be able to earn the special skins for D.Va and Genji, simply because they don't have a PC — a requirement to participate in the Heroes of the Storm "Nexus Challenge 2.0." 
Luckily, those skins' limited availability are only temporary, according to Kaplan.
"We completely understand that there are some players who do not own or have access to a PC to play Heroes of the Storm," Kaplan wrote in response on the forums. "Because of this, we plan to add both the Oni Genji skin and the Officer D.Va skin to the normal, base Overwatch loot box at some point in the future."
It's unclear whether these skins will cost the rate of 1,000 coins for standard legendary skins or go for the higher, triple-cost rate of event-specific skins. Kaplan also did not specify when exactly these skins would be available in regular Overwatch loot boxes. So, it could be just a month, but there's no way to know for sure.
The Oni Genji skin was also available in the first Nexus Challenge, so it's possible that Blizzard is planning on holding the skins back for yet another crossover promotion in the future. 
We'll update you if Blizzard announces anything more about the Nexus Challenge Overwatch skins.
More Overwatch news and updates
For more on Overwatch, check out the rest of what Mic has to offer. Here is our Project Runway-style judging of every new Uprising skin, an unintentionally hilarious infographic showing the most popular Overwatch characters in each state, our definitive ranking of every Overwatch hero and a giant Overwatch FAQ for beginners.