'The Flash' Season 3, Episode 20 Preview: Savitar's identity to be revealed — probably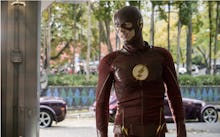 We had to wait a few weeks, but The Flash finally returned Tuesday with an episode that featured Barry Allen's long-awaited trek into the future. Unfortunately for Barry, and all of us, he did not learn quite as many answers as he would have hoped, leaving us pondering the same question that has been teasing us for months: Who is Savitar?
Though he does not learn exactly who is enemy is, Barry's trip to the future  isn't all for naught. After providing some hope to a weathered, and withdrawn, future version of himself, future Barry gives 2017 Barry the name of the person who will ultimately help him stop Savitar: Tracy Brand. Barry also learns that at some point Caitlin Snow — who has now gone full-blown Killer Frost — will align herself with Savitar. 
Savitar's identity is revealed to Killer Frost, but the audience is kept frustratingly in the dark. However, we now know that whoever Savitar is, his identity was shocking enough to convince Killer Frost to take his side. Now, in season three, episode 20 of The Flash, titled "I Know Who You Are," Barry Allen and the rest of the team will have to get to Tracy Brand before Killer Frost does on behalf of Savitar. 
It also appears we will see yet another showdown between Killer Frost and Vibe, and if the future we saw in 2024 is to come true, Cisco could be losing his powers — and his hands. But the excitement does not end there, as episode 20 promises to finally let the audience in on the secret, and tell us once and for all who is under Savitar's armor. 
For more on The Flash, check out the official synopsis, via SpoilerTV, for season three, episode 20 below:
Barry (Grant Gustin) and the team meet Tracy Brand (guest star Anne Dudek), a scientist, who may be the key to stopping Savitar. Unfortunately, Killer Frost (Danielle Panabaker) is also after Tracy so Team Flash must battle their old friend, which proves to be particularly difficult for Cisco (Carlos Valdes). Joe (Jesse L. Martin) and Cecile's (guest star Danielle Nicolet) relationship takes a big turn.
Need a little bit more? Check out the following promo. And watch carefully, because it promises answers.
Mic has ongoing coverage of The Flash. Please follow our main The Flash hub here.