Trevor Noah's 'Daily Show' interrupted by "Donald Trump," declared "fake news"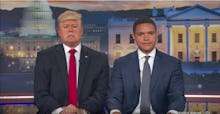 As many political pundits will likely do throughout the week, The Daily Show's Trevor Noah took some time during Tuesday night's show to go over what President Donald Trump has accomplished — or more accurately, hasn't — in his first 100 days in office. Noah's critical approach probably won't sit well with the president, so what better way to defend yourself than to appear on The Daily Show? 
Yes, "Donald Trump" — as portrayed by comedian Anthony Atamanuik, who will impersonate the president for Comedy Central's The President Show, debuting this Thursday — interrupts Noah's monologue to deliver some counterpoints to the host's criticisms. "I never watch your show," the faux Trump says. "But I've seen all the episodes and you've said some very not nice things about me." 
"I haven't said not nice things about you, Mr. President," Noah responds. "Most of the time I just repeat your words, man." 
Atamanuik's Trump even has his own Twitter account, which is very on-brand compared to the real thing. 
Admittedly, Atamanuik's Trump impersonation is really spot on. He doesn't hunch over and scowl as much as Alec Baldwin on Saturday Night Live, but he's nailed Trump's strange vocal inflections. As an added treat, he repeatedly refers to Noah as "Travis" and calls The Daily Show "fake news." He explains to Noah how the White House will handle the border wall with Mexico, which has continued to come under scrutiny. In signature Trump form, his response is all over the place — and he doesn't present a solution. 
"Totally and completely easy," fake Trump rambles. "It's not complicated at all. This is easy stuff, folks. Totally easy. We can tax them — they don't have to pay with money. We can tax them. We can take ... do you love the little Coca-Colas, Mexican Cokes, with the sugar in them? And Mexico's beating us, they have the sugar in the Coke. They got the sugar in the Coke. We can do it. Little adobe huts. I don't know, we'll figure something out, OK? They're killing us." 
To cap off his Daily Show cameo, Atamanuik's Trump promotes his own show and its start date. In its own way, this also falls in line with the Trump administration, which has plugged Mar-a-Lago; in one conversation about dropping bombs in Syria, Trump raved about the resort's delicious chocolate cake. 
"I have my own show, and it's a huge hit," phony Trump concludes. "Tremendous ratings, and it starts this Thursday right here on the failing Comedy Central. Travis, you've made a terrible mess here, and I alone can fix it. We're gonna make Comedy Central great again." 
You can check out Atamanuik's Trump cameo on The Daily Show below. The President Show premieres Thursday at 11:30 p.m. Eastern on Comedy Central. 
Mic has ongoing coverage of The Daily Show. Follow our main Daily Show hub here.