Serena Williams spoke out about winning the Australian Open while pregnant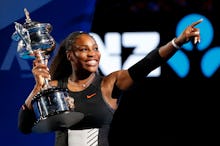 Pregnant women can do just about everything non-pregnant people can. But naturally, an expecting Serena Williams managed to do what most people in the world can't ever do, pregnant or otherwise: win an Australian Open.
The world champion women's tennis star spoke out about her experience playing the winning match in a Tuesday Ted Talk interview with Gayle King.
Williams, who found out she was pregnant just two weeks before the tournament, admitted at first she was a little hesitant about whether she should play at all.
"I know it's very dangerous in the first 12 weeks or so, so I had a lot of questions," Williams said. In the end, though, she decided it was something she needed to do no matter how nervous she was.
"Pregnant or not, no one knew," she told King. "Every tournament where I show up, I'm expected to win. If I don't win, it's actually bigger news."
Williams announced her pregnancy publicly on April 19, when she posted a Snapchat to her story with the caption "20 weeks." 
It turns out the announcement was more or less an accident.
"I was on vacation, taking time for myself, and I have this thing where I've been checking my status and taking a picture every week," she said Tuesday. "I've been just saving it, but you know how social media is — you press the wrong button and..."
Williams said she plans to return to tennis after having her baby. Her child will just have to come along for the ride.
"My story isn't over," Williams said. "This is just a new part of my life. My baby is going to be in the stands, hopefully cheering for me and not crying too much."