Chrissy Teigen and John Legend reenacted iconic 'The Devil Wears Prada' scenes on Snapchat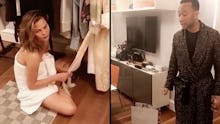 Chrissy Teigen and John Legend, two of Hollywood's most relatable and outspoken stars, have struck again. 
This time, it involves the duo taking several hours out of their Monday night to reenact the greatest scenes from one of the greatest movies ever made: The Devil Wears Prada. Who among us haven't, you know? 
In total, the couple chose four scenes to put their own spin on via Snapchat, including the iconic one in which Miranda Priestly, played by Meryl Streep, utters the words, "Florals? For spring? Groundbreaking." 
Except in Teigen's version, rather than the scene taking place in the office of a fashion magazine, it takes place in what looks to be her own closet, with Teigen sitting wrapped in a towel. Sensible.
"Florals for spring?" Teigen says, as bored as possible. "Groundbreaking." 
Next, Legend joins Teigen for a spin on Annie, played by Anne Hathaway, asking how to spell "Gabbana," as in Dolce & Gabbana. 
In the Teigen-Legend household, the scene plays out with Legend entering the room in a Hugh Hefner-esque robe and asking: "Baby, what do you want to eat?" Teigen, in response, growls: "Can you even spell Gabbana?" 
Legend returns for the important role of Andy's absolutely unbearable boyfriend in another video, reenacting a speech he gives after feeling miffed at Andy's success, because he is a weak, terrible man. 
"In case you were wondering, the person whose calls you always take, that's the relationship you're in!" Legend screams, still in robe. 
"Postmates?" Teigen answers. 
Finally, of course, Teigen and Legend had to put their own spin on another one of the film's most quotable lines: "A million girls would kill for this job!"
In Teigen's snap, she sets the scene by throwing a piece of clothing at her presumed assistant, who's weeping at a desk, and then, while still wrapped in her white towel, screams out: "A million girls would kill for this job!" 
Yeah, they nailed it. 
Any questions?