Ivanka Trump champions women, but her brand's Chinese factory workers make $62 per week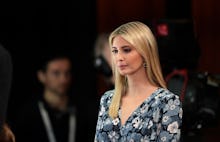 Ivanka Trump bills herself as a champion of working women, but according to a new report by the Fair Labor Association, her brand profits off the labor of exploited garment workers — a group that is overwhelming comprised of women. 
Published in the Washington Post, the report found that Trump's clothing brand is partially produced by Chinese factory workers paid about $62 for a nearly 60-hour work week, largely without the kind of "social insurance" benefits for which Trump advocates so aggressively in the U.S. 
The G-III Apparel Group factory in China employs 80 workers who are locked into a minimum of 57 hours per week, often clocking overtime hours that run way over China's 36-hour monthly limit. According to the Post, G-III employees across departments have worked as many as 82 extra hours per month. 
Trump's role in all this is associative. Having recently stepped into the role of special assistant to the president of the United States — her father — she relinquished her management roles at both the Trump Organization and her label in early January. But as the Post pointed out, she still owns her brand. 
What's more, the Fair Labor Association conducted its factory tour — and found rampant safety violations — in October, before Trump changed her role.
Of course, Trump's brand is far from the only fashion label that sources its labor from G-III or similar factories. G-III, which has factories in Bangladesh, Vietnam and South America, also manufactures garments for Calvin Klein and Tommy Hilfiger, the Post reported. It's partnered with Cole Haan, Nine West, Guess, Ellen Tracy, Kensie and many more.
Indeed, the vast majority of fast fashion is produced overseas by workers who are paid next to nothing, and most often, those workers are women. According to a Europa report from 2015, over 70% of China's and 85% of Bangladesh's garment workers were women, and the minimum wage for those in Bangladesh was less than 60% of the amount they'd need to cover a week of bare necessities. Obligated to work untenable overtime hours, often in unsafe conditions and without breaks, the women of the global garment industry are infamously exploited.
Sure, other brands may rely on these workers and these factories to produce their clothes, but Trump's clothing is part of a larger personal brand that's all about advocating for women in the workplace. 
On Tuesday, Trump visited Germany at the invitation of Chancellor Angela Merkel and spoke on a women's economic empowerment and entrepreneurship panel at the W20 summit, where she identified herself as a feminist. The day before, she published an op-ed in the Financial Times bemoaning women's lack of economic opportunity and low participation in the global economy, relative to men. 
"Our challenge now is to work together — in public and private sectors — to move decisively to invest in women worldwide," Trump wrote. 
That her name is attached to a company that exploits women is hypocritical. For one thing, her father just signed a "buy American, hire American" executive order. But more than that, it's eminently possible to source clothing responsibly — just ask lingerie company Naja, or shoemaker Brother Vellies. 
Trump has positioned herself as a champion of "women who work," and she has a book with exactly that title being released on Tuesday. She's also reportedly starting a fund for female entrepreneurs — perhaps she could throw some of those funds to the women who work to make her clothing.