Department of Education denied access to a low-income program over a formatting error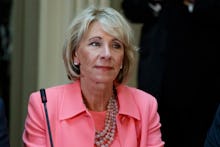 The entire congressional delegation of Maine has accused Betsy DeVos' Education Department of denying funds for a crucial program that helps low-income students go to college in their state — all over a formatting error.
A letter obtained by Mic and sent by Sens. Angus King (I-Maine), and Susan Collins (R-Maine) as well as both of Maine's House representatives, claimed that the Department of Education rejected an application by the University of Maine at Presque Isle to participate in the department's Upward Bound Program in 2017. 
Upward Bound is part of a package of federal education support program first established in the 1960s during President Lyndon Johnson's "War on Poverty." It is designed to help high school students from low-income families complete high school and enroll in postsecondary education. 
According to the letter, UMPI was denied two Upward Bound grants in 2017 because the school's 65-page application included two infographics with text "1.5 line spaced instead of double spaced."
The letter also claimed that the Justice Department refused provided no opportunity to amend the minor formatting error and refused to reconsider it. "To deny UMPI's application a reading because two figures do not meet an arbitrary typographical format ignores the spirit of the Upward Bound Program is antithetical to congressional intent, and would seriously jeopardize the future success of hundreds of students in Maine," the letter said.
On Tuesday, King posted a video to his personal YouTube channel in which he called the decision "one of the dumbest acts I've seen by government anywhere, anytime."
The decision to cut of funds to UMPI over such trivial errors appears to be part of a broader pattern by the Department of Education under DeVos. A spokesperson for King's office said that they are working closely with Democratic Sen. Jon Tester of Montana to address similar issues in his state and that schools in Florida, Delaware, Illinois, Ohio, and Michigan have also recently seen applications rejected.
Mic reached out to the Department of Education's Office of Federal TRIO Programs, which oversees the Upward Bound Program, but did not receive an immediate response.