In 'Fargo' season 3, being technology-averse can have deadly consequences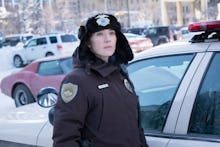 When teasing the third season of FX's Fargo anthology series at the 2017 Television Critics Association press tour, executive producer Warren Littlefield revealed an important clue on how technology would play into the new season. "[Fargo showrunner Noah Hawley] is enjoying that technology in many ways is supposed to unite; and, in fact, perhaps that's not what happens at all," he said. 
That's most evident in season three's second episode, "The Principle of Restricted Choice," which sees several characters grapple with technology with varying repercussions. At best, the series' Midwesterners are noticeably out of touch with everyday tech. This season is set in 2010, the most modern Fargo season to date. At worst, however, there are fatal consequences. 
Let's start with the most middling instance of episode two: Eden Valley police chief Gloria Burgle and her darn doors. Gloria is seemingly unnoticeable to automatic doors; something that's already a recurring theme, after her stepfather's general store didn't open for her in the season three premiere. She asks her partner, rather bluntly, if she's invisible. Gloria's technology-free workplace — the computers at her police station are still boxed up; she prefers old-fashioned police work more suited for the previous century — is about to see a major shakeup. Eden Valley's police department is being absorbed by another county, meaning Meeker County sheriff Moe Dammik becomes Gloria's boss, and he wants to bring their police work into the modern age. This is much to Gloria's dismay, of course: She's been using a telex machine, which in its own way is pretty impressive in 2010.  
"You know what year it is, right?" Dammik tells her. "The future — we don't use telex. Who uses telexes anymore?" 
What's especially amusing in Gloria's technology-averse philosophy, which really comes to the fore in "The Principle of Restricted Choice," is how it aligns with actress Carrie Coon's adjacent work on The Leftovers this week. In the HBO series' episode "Don't Be Ridiculous," Coon's character Nora has her own issues with technology when she travels to St. Louis to meet with Perfect Strangers actor Mark Linn-Baker (if you're not familiar with The Leftovers, yes, it's a weird show). Trying to book a plane ticket on a touchscreen, she's unable to select the option of traveling without an infant — a particularly rough metaphor after losing her adopted infant Lily in the show's three-year time jump. What's more, the GPS in her car fails to work, which, for any driver without a keen sense of direction, is a nightmare-inducing scenario. All of this to say: Does Carrie Coon secretly hate modern technology? I'm fine spreading this rumor. 
Anyway, back in the world of Fargo, Gloria isn't the only character who struggles with technology this week. Emmit and Sy go to attorney Irv Blumkin — a terrific Fargo name — to learn more about their mysterious new business partner, V.M. Varga. Blumkin's research hits a dead end when he doesn't know what to do after typing in Varga's full name on Google. His secretary tells him to press enter — again, he doesn't have a clue. How on Earth has this guy dug up info in the past? 
Once he does enter Varga's name on Google, however, only one result pops up. It's the type of HTML that immediately looks sketchy, especially when the website is blank aside from an external link that reads, "Click to download information." Blumkin does click it before his secretary can stop him, and the computer takes a screenshot of their faces before automatically shutting off. 
Foreboding? You betcha! As Blumkin is heading toward his car in the office parking lot, he's approached by two of Varga's enforcers, one of whom is named Yuri Gurka. You'll recall Gurka was the man sought by the German captain in season three's cold open, set in 1988 East Berlin. Gurka and his associate throw Blumkin off the garage, where his death is labeled as a tragic suicide. 
This is bad for news for Emmit and Sy, whose new office space is taken over by Varga's mysterious operation (Sy's working theory: "slave girls"). Along with the "parking lot king of Minnesota" misjudging the prowess of Blumkin's researching skills, he probably should've assumed there would be some kind of catch after getting a million-dollar loan in the middle of an economic recession without knowing the name of the person offering the loan. Even Blumkin, God bless his technology-averse soul, knew that was a bad idea. 
But hey, at least Emmit still has his precious Sisyphus stamp. 
Fargo season three airs Wednesdays at 10 p.m. Eastern on FX. 
Mic has ongoing Fargo coverage. Follow our main Fargo hub here.