Is 'Dancing With the Stars' rigged? Twitter is fired up over Heather Morris' elimination.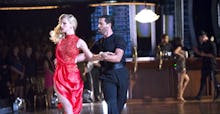 For those who missed the shocking elimination of Glee star Heather Morris on Dancing With the Stars on Monday night (or haven't been on Twitter in two days), here's a brief rundown of what happened: 
Morris and her dance partner Maksim Chmerkovskiy were sent packing after receiving the first perfect score of the season for their rumba to TLC's "Waterfalls," and taking the top spot on the leaderboard. When it was announced that Morris was going home, the audience went into such a frenzy that the hosts had trouble suppressing the "boos." 
"In 24 seasons, that is probably the most vocally unhappy reaction we've gotten about an [elimination]," said host Tom Bergeron post-show, according to Entertainment Tonight. 
But the frustration didn't end there. Scores of people took to Twitter to express their dismay, and their ultimate distrust of the show's voting system. 
So what's the deal? Is Dancing With the Stars really rigged? And if not, does the voting system have balances to check seemingly unfair eliminations like this one? 
Here's the basic gist of how it works: The system adds the popular vote each couple received for their dances the week before to the judges' scores they receive on Monday night (it's a 50/50 split). This system was worked out when the show lost its Tuesday slot, and had to cram both dancing and voting into one 2-hour segment. Even showrunner Conrad Green admits it's a flawed system: 
"Obviously, it wasn't our choice not to have a results show," Green told "Entertainment Tonight." "A results show works, and that is the clearest, simplest way — cause and effect, week to week. ... We looked at the option of same-night voting, but that would alienate half the country — although, in terms of audience, probably about two-thirds of the audience's votes come from the Eastern and Central time zones."
Basically what he's saying is if you have a results show on the following night, then a breakout performance like Morris' could factor into audience votes and possibly save her from elimination. However, since they have to jam it all into one evening, she only had the judges' scores and her audience votes from last week to save her. 
This is not the only time the somewhat flawed voting system has caused a seemingly unfair elimination. Back in season 17, five minutes after receiving a perfect 30 out of 30 for their salsa trio, Elizabeth Berkley Lauren and Val Chmerkovskiy were eliminated, which upset fans and dancing professionals alike. 
The other reason it's not the fairest system is because the audience vote doesn't have to be based on dance prowess. They can simply vote for whichever star they like best, and that doesn't always coincide with the best dancers. 
Thankfully, the seasoned dancers who have been on the show for years understand this, and thus take eliminations in stride. 
"Whatever happens, happens," Peta Murgatroyd, professional DWTS dancer and Maksim's girlfriend told Fox News. "I feel really sad for Heather and Maks, but it's just tough. The audience [has] gotta vote. If they like you and they want to see you continue going forward, they're going to vote. That's the bottom line."
Mic has ongoing DWTS coverage. Please follow our main DWTS hub here.