'Battlefield 1' Spring Update: Platoons and more coming soon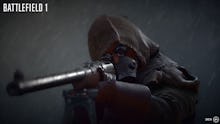 World War I may have ended nearly a century ago, but players have been reliving its many horrors in Battlefield 1 since the game's October release. Listen, sometimes it's fun to get killed by a guy riding a flaming horse through a desert before the horse gets blown up by a tank. 
If you're one of the many people still playing Battlefield 1, get excited. There's a big ol' update coming soon that will bring a bunch of new and returning features to the game. We don't know the release date, but we do have a few details.
Battlefield 1 spring update brings platoons, password-protected servers
VG24/7 has all the details, but the most important additions in the spring update have little to do with in-game content. Community-run platoons return from Battlefield 4 and can have up to 100 members organized by different ranks for easy battlefield coordination. You and your platoon will be able to play together in new password-protected servers. They'll be unranked, but will provide a way for groups to play with one another without the riffraff. 
The update also brings a smattering of level-10 weapon variants, ribbons and other doodads to unlock. On the gameplay side of things, planes are getting a decrease in power so ground troops won't be quite as easily mowed down at every opportunity. Finally, medics can spot their dead teammates, which will notify said teammate that help is coming — so they can choose to stay dead instead of respawn. 
There isn't a confirmed release date for this update, but since spring comes to an end fairly soon, it shouldn't be too much longer. Keep checking Mic to find out when the Battlefield 1 spring update launches for Xbox One, PlayStation 4 and PC. 
More gaming news and updates
Check out the latest from Mic, including our deep dive into how female Overwatch players are dealing with online harassment, an article about a fan movement advocating for more same-sex romance options in Mass Effect, a personal essay to JonTron from another Iranian-American and an article looking at cultural diversity in Overwatch.