'RuPaul's Drag Race' episode 6 recap: Which queen won Snatch Game?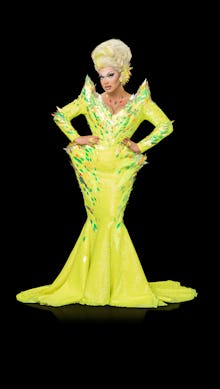 Even the most casual of RuPaul's Drag Race fans understand the importance of Snatch Game, a Match Game parody that tests the queens' celebrity impersonation skills. It's akin to Top Chef's Restaurant Wars, aka the show's most important recurring challenge, one that, as RuPaul himself notes in Friday's episode, separates "the basic bitches from the fierce-ass queens."
Since it's such an important challenge — and because it's been awhile since we ranked the season 9 girls — we'll recap the episode by breaking down the queens' performance from worst to first. Their ranking is based on two scores: their Snatch Game performance and their Madonna-inspired runway looks. (In case of ties, the Snatch Game score serves as tiebreaker.)
10. Cynthia Lee Fontaine
Challenge: 1
Poor, sweet cucu. Cynthia was sad she didn't get to Snatch Game during season 8 but starts this episode thrilled to finally do her Sofia Vergara. Unfortunately, the thrill stops there. Her impression is a disaster, deeply unfunny and incredibly weird. She never really gets to Sofia, remaining Cynthia throughout. Guest judge Denis O'Hare's observation that the character is too close to her is right-on, although Michelle Visage saying the judges loved season 3 contestant Yara Sofia's Amy Winehouse is a remarkable bit of revisionist history. Yara was bottom three in that challenge!
Cynthia's runway, while technically on brand as Madonna, still feels trapped in her mold. Cynthia is an adorable queen, albeit a bit too reliant on her cucu catchphrase, but it's clear Drag Race is not her venue. It's sad to see her go, but she's proved herself endearing twice over. Time to give the girls with a real shot at winning the competition a chance.
9. Peppermint
Challenge: 2
Peppermint gets her big moment in the workroom this episode, coming out to the other girls as transgender. Peppermint has publicly discussed her identity before but said she wanted to get to know her fellow competitors better before sharing that part of herself. It's a nice moment, one that makes her the arguable star of the episode despite her totally bland performance as Real Housewives of Atlanta's Nene Leakes.
Pep seems to have some sort of performance anxiety that hits at exactly the wrong moments. She fell apart during the live talk-show challenge, too. Moreover, her runways are disappointingly basic, especially among these queens. I'm still not sure I understand who Peppermint is as a drag queen, and we're in week six. She needs to step it up, although her killer performance in the lip-sync to Madonna's "Music" shows she's got it in her.
8. Aja
Challenge: 3
Aja should give thanks to the goddess RuPaul herself that she avoided the bottom three this week. Her choice to play Alyssa Edwards was not only deeply uncreative — Violet Chachki did it better in season 7 — but it also relied on the now-tired trope of performing as a fellow Drag Race contestant. Michelle and guest judge Candis Cayne rightly call this out during deliberations. It's a lazy choice, and Aja does nothing interesting with the character.
Her Madonna runway is okay, but I'm hitting the wall with Aja a bit. She's capable of greatness, but her performances on this show have ranged from disastrous to boring. There are probably worse queens left, but Aja's the one who's adding the least to Drag Race at this point.
7. Farrah Moan
Challenge: 2
Speaking of "worse queens": Yes, Farrah's pretty bad as YouTube style star Gigi Gorgeous, and she's managed to foul up a lot this season. Three bottom-three appearances out of five total bottom threes is a terrible record, no bones about it. But she turns it out on the runway this episode, and overall seems to have the right attitude, both on the show and off it. (Her Twitter is hilarious.)
Farrah should absolutely not win Drag Race season 9, but a few more weeks of her would not be unwelcome. If we're out one ray of light in Cynthia, it would be nice to keep Farrah's positivity around.
6. Trinity Taylor
Challenge: 6
Trinity is pure middle of the road this episode, both on the runway and in her performance as Amanda Lepore. You might be tempted to say she's coasting, but Trinity's actually showing all the signs of a queen who makes it far. She's capable of handling drama with the other girls, has already won a challenge, impressed Michelle and Ru early and destroyed a lip-sync. 
Now, she's turning in consistent performances, ones that please Ru but don't take too many risks. She'll likely rise to the top once again in the next week or two. So far, Trinity is playing this exactly right. She's totally surprised me, and I'd mark her as a lock for top four at this point.
5. Shea Couleé
Challenge: 7
Star. Star star star star star. Shea is just running the boards at this point, turning in one of the funniest of the safe performances in Snatch Game. As Naomi Campbell, her timing is good, her references are smart and she wisely interacts with other girls on the panel. Her "Material Girl" runway is gorgeous, though she gets points off for sharing a costume idea with Peppermint.
Put Shea in that prospective top four with Trinity, although it's less of a surprise. She's been consistently great from preseason on, and it's a thrill to watch her.
4. Nina Bo'Nina Brown
Challenge: 8
I remain worried about Nina's long-term prospects on the show, particularly after her dramatic moments in the previous two episodes. But holy hell, her performance as Jasmine Masters is really something to watch. It's the kind of choice that could really backfire on a queen — as noted with Aja, Michelle is clearly not a fan of Drag Race contestants doing Drag Race contestants. But as O'Hare wisely notes, choosing season 7 queen Jasmine, "the poster child for discontent," as her avatar is remarkably savvy.
Jasmine has become something of a phenomenon after her time on the show, known for her rambling YouTube videos and unique turns of phrase. Her bold declaration that "RuPaul's Drag Race have fucked up drag" should have made her persona non grata, but Ru seems totally delighted by Nina's pick. It's a good moment for not just Nina but the show itself.
3. Valentina
Challenge: 8
All that praise for Nina aside, it's nuts that Valentina is relegated to the safe group. Her choice of the would-be-wouldn't-be Miss Universe, Miss Colombia Ariadna Gutiérrez, is remarkably inspired. She chooses a relative blank slate with a notable hook, crafting her own idea of the character and executing it pretty smartly. It could have been a big nothing of a performance, and it's to Valentina's immense credit that it's much more.
Her runway is just astonishing, coming out nude except for two black bars over her private regions in tribute to Madonna's Sex book. Again, it's a risky choice that pays off huge. Valentina is one of the only queens consistently thinking out of the box this season, albeit in a very different way than, say, Nina does. She's probably a safe bet for that top four as well.
2. Alexis Michelle
Challenge: 9
So Alexis wins this week, and it's a fine choice. She serves up a very good Liza Minnelli, though a contrarian could argue that she doesn't do much that you couldn't see another Liza impersonator do. This is my one problem with Snatch Game: Some of the most lauded impersonations are merely great mimicry, with no idea of the character. Season 4 queen Chad Michaels' Cher is a wonder not just because of how accurate it is, but because of the texture she gives Cher.
That said, Alexis is funny in Snatch Game, and her runway look is a major step up from the last episode. It feels like a makeup win, frankly, but she deserves it.
1. Sasha Velour
Challenge: 9
While no one turns in a truly legendary impersonation this episode, Sasha certainly gets the closest with Marlene Dietrich. Sasha seems uniquely unsuited to this challenge, saying in her confessional that she's a very serious person and choosing a relatively hard character to make funny. But Sasha figures out a pretty brilliant solution, leaning into the dullness and letting the monotone work for her. "Teutonic bisexuals make for the most forceful and unforgettable lovers" is a scream laugh of a line.
Her runway is similarly a smash, coming out as Dita from the "Erotica" era. Points to O'Hare again for noting the Dita-Marlene whip connection, another way Sasha is thinking about her whole presentation in a fascinating way. Sasha's the real deal. I'm not quite as convinced she'll win Drag Race as I was before the season started, but I think she's our last top-four member.
RuPaul's Drag Race returns Friday, May 5, at 8 p.m. Eastern on VH1.
Mic has ongoing RuPaul's Drag Race coverage. Follow our RuPaul's Drag Race main hub.