AT&T just announced a new 5G network. That's not a real thing.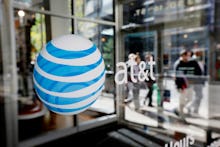 AT&T announced on Tuesday that it would be rolling out a brand new "5G Evolution" network across 20 major metro areas by the end of this year, promising to "pave the way to the next generation of faster speeds for its wireless customers." The only problem: It's wishful thinking at best, and incredibly misleading at worst.
The company is claiming faster speeds in some locations on some devices. For example, Samsung Galaxy S8 or S8+ users in Austin, Texas, can access "twice the speeds of [the] 4G LTE network." In lab settings, the company supposedly has created a "connection with less than 3 milliseconds of latency." But outside of broad claims followed by precise disclaimers, AT&T is not saying much about the actual technology.
"Customers can expect to see their data speeds increase as we continue to invest in our wireless network by adding small cells and using advanced 5G Evolution achieved through upgrades like carrier aggregation, 4x4 MIMO, 256 QAM and more," AT&T said in a press release.
The biggest problem here is that a company cannot be providing a 5G network when there are no industry standards for it. Organizations like the 3GPP and the International Telecommunications Union have not released official specs and guidelines — the latter has only released a working draft. Without specific criteria, AT&T's new network is just a network with "5G" in its name.
Simply put: 5G doesn't officially exist — yet.
What makes AT&T's announcement misleading, as the Verge reported, is that it is using a term — 5G — that is currently accepted as the successor of 4G technology. In turn, the company is implying to have an advanced form of technology it really can't claim it has. The company even acknowledges so itself by describing the new network as a "foundation for our evolution to 5G while the 5G standards are being finalized."
AT&T first announced 5G Evolution at the start of the year. "We're not waiting until the final standards are set to lay the foundation for our evolution to 5G," John Donovan, chief strategy officer and group president, Technology and Operations said in a statement. "We're executing now."
So what exactly is the "5G Evolution" network? It's a network that has undergone a fancy marketing makeover.