New McDonald's Mario Happy Meal toys celebrate 'Mario Kart 8 Deluxe' release on Nintendo Switch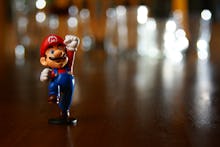 The latest diabolical plan in marketing for the Nintendo Switch has brought the company some noteworthy exposure: McDonald's Happy Meal toys. Between the Jimmy Fallon visits and glow-in-the-dark murals in Brooklyn, Nintendo is pulling out all the stops to make sure people know about the Switch and its games.
Super Mario toys at McDonald's: Mario, Peach, Bowser and more come to Mickey D's
From April 26 through May 22, McDonald's will offer up Super Mario-themed toys as part of Happy Meals. Characters like Mario, Luigi, Princess Peach, Yoshi and more will be tucked inside meal boxes. (We'll be hoping for Luigi, if only because he's clearly having the most fun.)
Most of the toys can be found as characters or items in the upcoming Mario Kart 8 Deluxe game for Nintendo Switch. The toys' arrival is timed, of course, with the release of the game.
Super Mario toys at McDonald's: Let's be real, amiibo would've been better
The press release, however, makes no mention of whether the toys provide any amiibo-like functionality. Nintendo's amiibo are NFC-enabled toys that unlock special in-game items, hidden modes and other goodies for players. In Mario Kart 8 they unlock racer costumes. In Legend of Zelda: Breath of the Wild, amiibo unearth armor and weapons. These McDonald's toys don't appear to offer anything like that.
It's a missed opportunity. McDonald's could have given players who are obsessed with unlocking every little thing a reason to venture in and buy some fries.
Super Mario toys at McDonald's: Nintendo Switch stock comes to Mickey D's
McDonald's may not have amiibo, but it does have the Nintendo Switch (sort of) — unlike many retailers right now. In a new contest, the fast-food chain will offer up 100 Switch consoles and Mario Kart 8 Deluxe to sweepstakes winners, though they won't actually have any for sale. The contest requires you download the McDonald's app and scan a purchased meal by May 22.
The McDonald's promotion and contest comes right at a time when Nintendo can keep the Switch hype train moving. The restaurants' toys may not be amiibo, but a free Switch is bound to make customers happier than any meal.
Check out more Nintendo news and coverage
Looking for more Nintendo Switch news? Check out how blind gamers are using the Nintendo Switch. Nintendo's left Joy-Con issue turns out to be a hardware problem — here's how to solve it. Find out how to buy a console amidst the recent restock. Learn why the Switch cartridges taste so bad. Check out our comparison photos sizing up the Switch to the Wii U GamePad (part one and part two), or find out how to make use of ethernet without the dock and the best way to get alerts when new stock arrives.