What Melania Trump wore her 14th week as first lady — the 3 times she appeared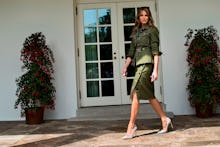 Well here we are, nearly 100 days into Melania Trump as our first lady — and boy, did she make this week count. 
This week, she surprised us, which is something Trump barely ever does with her clothes. There's nothing wrong with that. She has a uniform. But this week, she played with color and pattern and style. 
Yes, her waist was always cinched. And yes, she stuck to her favorite colors like blue and neutrals, but you could see that she actually had fun, and experimented with designers she hasn't yet worn yet. 
This is what she wore this week, her 14th week as first lady: 
Saturday, April 22: A camel trench for a Walter Reed hospital visit 
For a visit to Walter Reed National Military Medical Center, during which President Donald Trump would award a man with a Purple Heart for his military service, Trump opted for a more casual look: slim black pants with a camel trench worn as a shirt, and Manolo Blahnik shoes. 
This is one of those outfits whose designers has regrettably gone unidentified, although we do know that the trench is not Burberry. There is a chance that it's Michael Kors, however, looking an awful lot like this coat and this coat. 
Wednesday, April 26: A navy coat with a contrasting belt
For a number of lunches and events at the White House on Wednesday, including the one above that honored teachers of the year, Trump wore a deep navy coat with a contrasting brown, reptilian belt. 
This is a very typical Melania outfit, with her affection for wearing coats as dresses and the always-highlighted waist. 
It also shows that Trump could be favoring a certain American designer, with this coat identified as an altered Michael Kors design.
Thursday, April 27: Trump wears her second designer of color
Trump has worn two designers of color at this point. On Super Bowl Sunday, she wore a sweater by Derek Lam and on Thursday, she wore a military-inspired army green jacket and skirt with patterned lining by Altuzarra, a brand headed by Joseph Altuzarra, whose mother was Chinese-American. 
What these two designers have in common is not just Trump wearing them, but that prior to this, they both spoke out about dressing Trump. In Altuzarra's case, however, he was far less concerned. 
Shortly after the election, Altuzarra, who Michelle Obama wore frequently, told the New York Times: "I don't want to not dress people I disagree with." 
Also, this outfit is quite excellent. Though Trump abides by the "less is more" rule, this is a smart-looking, interesting outfit that still abides by some of Trump's own dressing testaments, like that cinched waist and that perfect length. 
You can see previous recaps of what Melania Trump wore here. 
May 1, 2017, 2:53 p.m.: This post has been updated.