What movies are coming out in May 2017? Here are 6 can't-miss new releases.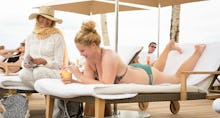 April showers have come and gone, and another Fast and Furious movie was released. Looking ahead, May has a ton of new releases for audiences heading to the theaters. There's something for everyone: Marvel gifts audiences with Guardians of the Galaxy Vol. 2; Guy Ritchie puts his spin on another retelling of King Arthur; Amy Schumer and Goldie Hawn team up for a buddy comedy in Snatched; and much, much more. 
Here are six movies being released in May to look forward to: 
The highly anticipated sequel reunites audiences' favorite band of misfits. James Gunn returns to direct the follow-up, and Chris Pratt, Zoe Saldana, Vin Diesel, Bradley Cooper, Dave Bautista and others from the original cast return to reprise their roles.
Guardians of the Galaxy Vol. 2, which sets the team on a new mission to discover Peter Quill's parents, is already earning positive reviews. Remember, there's a treat during the credits for fans — the film features five post-credits sequences. 
Guy Ritchie's taking a stab at the latest retelling of the classic King Arthur tale. Charlie Hunnam stars as the titular character in King Arthur: Legend of the Sword, an iteration that focuses on Arthur's troubled upbringing and how pulling the sword from the stone changed him forever. 
Amy Schumer and Goldie Hawn team up for a mother-daughter adventure comedy in Snatched. 
This is Schumer's first follow-up feature film since 2015's Trainwreck, which was both a box-office and critical success. At the helm of Snatched is Jonathan Levine, who also directed 50/50, The Night Before and Warm Bodies; Katie Dippold wrote the script featuring a mother-daughter duo that gets caught up in ridiculous hijinks during a vacation gone wrong. 
Ridley Scott returns to direct Alien: Covenant, the reboot looking to revive the Alien franchise. The Covenant crew is sent to an uncharted planet, but things take a turn for the worse when they discover a bunch of human-eating aliens. 
What the world needs now is a Baywatch movie, and it's coming at us in May. 
The film is, of course, an adaptation of the long-running 1990s television series of the same name. This version stars Dwayne "The Rock" Johnson, Zac Efron and Priyanka Chopra as lifeguards who defend their beach against some shifty criminal ongoings. 
Only a few things in life are certain: death, taxes and another Pirates of the Caribbean sequel. 
Johnny Depp and his pirate gang return for Pirates of the Caribbean: Dead Men Tell No Tales. This installment is co-directed by Joachim Rønning and Espen Sandberg. Depp returns as Captain Jack Sparrow alongside Javier Bardem's Captain Salazar, and the two go head to head. 
Mic has ongoing movies coverage. Please follow our main movies hub here.