Macaulay Culkin plays a crucified Kurt Cobain in Father John Misty's latest bizarre video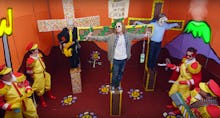 Father John Misty caused a minor internet uproar when he first released "Total Entertainment Forever" and the world heard its opening line: "Bedding Taylor Swift/ Every night inside the Oculus Rift/ After mister and the missus finish dinner and the dishes." 
The lyrics likely did their job, piquing the interest of a much wider range of fans who might not have otherwise found their way to his Pure Comedy album. However, after opening such a Pandora's box of absurdity, how do you possibly top it when it comes time to cut a video? 
Well, Father John Misty managed that too, giving the world a glimpse inside that Oculus Rift and the deranged pop culture hellscape it contains. The general plot: Kurt Cobain, played by legendary child actor Macaulay Culkin, gets crucified alongside a saxophone-playing Bill Clinton and the Garfield comic strip character Jon Arbuckle. 
Furthermore, at one point, a papier-mâché Ronald McDonald bursts out of Father John Misty's abdomen to zap a female protester, because why the fuck not? Everything is terrible.
What ever happened to Macaulay Culkin?
It's a rare appearance for Culkin, who, ever since fighting off Joe Pesci in Home Alone, dragons in The Pagemaster and greedy CFOs in Richie Rich — and consequently solidifying his legacy as one of the greatest child actors of all time — has laid relatively low in his adult life. 
He appeared in 2003's Party Monster and launched a pizza-themed comedy rock band called the Pizza Underground, which mainly plays reimagined Velvet Underground covers. 
The "Total Entertainment Forever" video is a actually "spiritual follow-up," as Pitchfork wrote, to another of Culkin's recent projects, Adam Green's Aladdin, a musical papier-mâché absurdist reimagining of Disney's Aladdin released in October 2016. Culkin starred and helped produce that film directed by Adam Green, one quarter of 4GB (Four Gods and a Baby), the art collective that directed Misty's present music video.
Misty described the song to Exclaim, with its hotbed Swift lyric, as a gross illustration of all of pop culture and internet's self-destructive impulses:
"The internet was supposed to be this new democracy, a utopia of information where everyone had a voice and we were all interconnected, and we would experience true democracy — and it turned into pornography, followed only by outrage." Father John Misty told Exclaim of the song. "And if you don't think that this virtual reality thing isn't going to turn into sex with celebrities, then you're kidding yourself."
Crucifying celebrities, the video suggests, is the next logical step.
Mic has ongoing music coverage. Follow our main music hub here.