A Fox News host made a sex joke about Ivanka Trump speaking at the women's summit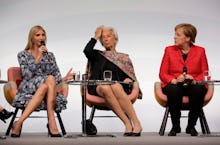 As Fox News continues to battle a PR nightmare in the wake of Bill O'Reilly's firing, its remaining employees aren't doing much to help reform the network's image.
During a segment on the audience's negative response to Ivanka Trump calling her father a "tremendous champion of supporting families" at the W20 women's summit in Berlin, host Jesse Watters lamented the lack of respect for Trump — and then immediately proceeded to make a suggestive comment about her.
"The Left says they really respect women, but when given an opportunity to respect a woman like that they boo and hiss," Watters said. 
He added, "So I don't really get what's going on here, but I really like how she was speaking into that microphone."
Watters, perhaps unsurprisingly, isn't the first Fox News employee to make an apparent sex joke in the midst of the network's sexual harassment scandal.
The day of O'Reilly's ousting, The Five host Greg Gutfeld said something similarly questionable to his colleague Kimberly Guilfoyle on air, telling her she was "giving America a raise" — aka sexually arousing viewers.
But in a statement to Mediate, Watters maintained he didn't mean anything sexual by his remarks. 
"During the break we were commenting on Ivanka's voice and how it was low and steady and resonates like a smooth jazz radio DJ," Watters told the outlet. "This was in no way a joke about anything else."
Yeah, you know — those jokes about jazz radio DJs. That whole genre of jokes. We get it.