How much does the 'Game of Thrones' cast make per episode?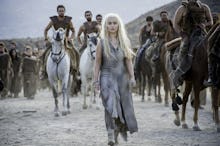 If it has felt like a long time since Game of Thrones aired its last episode, that's because it has been. But on July 16, after a break that's about three months longer than we are accustomed, the hit HBO show will return for its highly anticipated seventh season. The shortened seven-episode season of Game of Thrones is expected to be massive, with production reported to have taken just as long as the series' usual 10-episode seasons. 
It also sounds like the cost per episode just got a bit steeper. The Daily Express is reporting that five of Game of Thrones' leading stars have renegotiated their contracts for the series' seventh and eighth seasons, and are each set to earn a massive $2.57 million per episode. The cast members reported to have inked the massive payday are Emilia Clarke, Kit Harington, Lena Headey, Peter Dinklage and Nikolaj Coster-Waldau. 
According to the Express, the new deal is set to make the five stars the highest-paid actors on a per-episode basis in television history. The new contracts are worth more than eight times what the stars were expected to be paid when they were first presented an option for a seventh season back in 2014. 
At that time, Deadline reported that those same five cast members were given pay increases to $300,000 per episode in exchange for extending their contracts for a seventh season. Now, on top of the $2.57 million per episode, the new deals include complex bonus clauses that could see them earn even more from syndication and reruns. 
As for why HBO is giving the stars such a huge raise now, media analyst Mike Raia told the Express that "HBO is breaking the bank to ensure its most successful scripted program ever goes out with the kind of flourish fans all over the world have come to expect." 
Indeed, we should have expected nothing less. Winter, after all, is here. 
Game of Thrones returns to HBO for its seventh season on July 16. 
Mic has ongoing coverage of Game of Thrones. Please follow our main Game of Thrones hub here.