Trump's 100 Days: Trump has spent a quarter of his presidency at Mar-a-Lago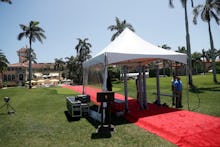 The website for President Donald Trump's Mar-a-Lago estate in Florida dubs it "the Crown Jewel of Palm Beach." Trump calls it "the winter White House." And taxpayers call it a pain in the wallet.
Trump has visited his lavish seaside spread at least seven times since his Jan. 20 inauguration, traveling to the Sunshine State to spend a total of 25 days at the private golf resort, according to Vocativ.
The landmark Mar-a-Lago sits on "20 valuable acres of manicured lawns, vibrant gardens and sweeping sea-to-lake vistas," according to its website.
Since Trump became commander-in-chief, he's used it to host the president of China, later saying he informed Xi Jinping over "the most beautiful piece of chocolate cake you've ever seen" the U.S. was firing 59 Tomahawk missiles at a Syrian airfield.
Mar-a-Lago also welcomed the prime minister of Japan for a visit, during which Team Trump hastily converted the members-only dining area into an open-air situation room to discuss North Korean missile tests.
While the full price tag isn't clear, Trump's jaunts to Mar-a-Lago — which isn't as isolated and easily secured as presidential retreats like Camp David — have cost taxpayers more than $21 million, according to CNN.
Trump delighted in needling his predecessor, former President Barack Obama, about vacationing on the public's dime. But at his current pace, Trump's travel tab will quickly exceed Obama's.
USA Today reported that through April 9, the "Palm Beach Sheriff's Office has already logged $3.5 million in overtime costs" for which it has requested reimbursement, with the cost of Xi's visit running $1.5 million alone.
The burden is so high, Newsweek noted, that Palm Beach County "is considering either budget cuts or even raising taxes" unless those reimbursements come across. 
Mar-a-Lago also made headlines in April, not only because its kitchen got slapped with violations by health inspectors, but also when the State Department yanked a web promotion for the resort and posted an apology in its place.
Trump will be traveling again on May 4. This time, it won't be to his Florida digs, but a city he hasn't visited as president: his hometown of New York City.