'Night Trap' PS4: '90s FMV "classic" gets surprise PS4 re-release via Limited Run Games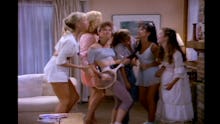 Back in the '90s, a bunch of people wrongly believed full motion video was the future of gaming. The idea of being able to lightly interact with live action video using CD-ROM technology was super enticing to folks who didn't understand what made video games fun. Thankfully, almost every FMV game from that era is hilarious and worth seeing in 2017.
Screaming Villains and Limited Run Games are coming together to bring a seminal piece of the genre to modern consoles in 2017. Get excited.
Night Trap coming to PS4 this spring
In 1992, Night Trap caused something of a stir for its violent and sexual content when it launched on Sega CD. That violent and sexual content, mind you, nets it a mere T rating from the ESRB in 2017 (though it was rated M for mature when the ESRB formed in 1994). Why is it getting rated in 2017? Shockingly, the game is getting re-released on PlayStation 4 soon. You can even get a physical copy to commemorate its 25th anniversary.
In Night Trap, a group of teenage girls at a slumber party (one of whom is played by the late Dana Plato of Diff'rent Strokes fame) is besieged by techno-vampires who want to steal their blood using goofy machinery. Your job is to monitor the situation remotely using security cameras throughout the house to activate traps in each room whenever the vampires are near them.
Let's get one thing clear: Night Trap is not a good game and it never was. All you have to do is memorize when the vampires will be in each room to succeed. The appeal lies mainly in the hammy acting and magnificently cheesy theme song, which you can download for free as part of this news. There's no release date aside from "spring 2017," but since it won't be spring 2017 for much longer, it should be out soon.
More gaming news and updates
Check out the latest from Mic, including our deep dive into how female Overwatch players are dealing with online harassment, an article about a fan movement advocating for more same-sex romance options in Mass Effect, a personal essay to JonTron from another Iranian-American and an article looking at cultural diversity in Overwatch.