Only 1 in 5 Republicans held a town hall in April — here's why that matters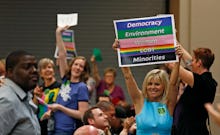 As President Donald Trump's first 100 days come to an end, Republican leaders in the House of Representatives went before television cameras Wednesday morning to tout their accomplishments and talk up their agenda. 
"The last two weeks have been really good for members to go back to their districts and again hear from and talk to the people that elected us," said Rep. Steve Scalise (R-La.), the number three House Republican.
Rep. Cathy McMorris Rodgers (R-Wash.) echoed her colleague. "It's always important to spend time in your district, listening to people, hearing their concerns," she said.
Yet neither Rodgers or Scalise held a public town hall meeting in their district during the two-week Easter recess that ended on Tuesday. 
The fear and loathing sparked by Trump's time in office has meant that those Republicans who decide to hold town hall meetings often face tough crowds; not infrequently, constituents angrily shout down the members of Congress for siding with Trump's agenda. Republicans have taken a simple tack to avoid the awkward encounters: Despite the clamor for more meetings, the vast majority of GOP members simply didn't hold town halls during the April recess.
Skimping out on town halls is not limited to Republicans, but the problem is more severe among GOP members. Overall, 40.5% of Democratic members of Congress — both representatives and senators — have held a town hall in April, according to data shared with Mic by Town Hall Project, a group that tracks the public meetings. Meanwhile, Republicans are coming in well short of that average: just 21% of them have held open events with constituents in April.
In the lower chamber of Congress, only 54 of 238 House Republicans have held a town hall so far in April, Town Hall Project found. Those Republicans held 188 town hall events. Of the 23 Republicans who represent House districts that Clinton won in the fall, only six held town halls in April. Only one of those six held more than one town hall meeting.
Only 54 of 238 House Republicans have held a town hall in April. 
The picture in the Senate is not much different. Idaho Republican Sen. Mike Crapo used to brag about the number of town halls he held. But Crapo has not held a forum with voters since before the 2016 election. In April, Town Hall Project found only seven of 52 Republican senators have held town halls. 
The lack of town halls could portend electoral trouble for the GOP. The 23 Republicans in districts won by Clinton are being targeted by Democrats in the 2018 midterm election. Democrats are hoping to pick off these House seats by capitalizing on disapproval of Trump in the districts.
Republicans avoiding town halls offer varied reasons for not meeting with groups of constituents. Some have said they prefer telephone town halls — controlled environments where rowdy protesters cannot publicly harangue a member of Congress. Minnesota Rep. Erik Paulsen's town hall meeting webpage is simply blank.
In California's 21st Congressional District, Clinton won by more than 15 points — but so did Republican Rep. David Valadao. Valadao has not held any town halls in April, but he did hold a "hometown huddle" in early March, where he met with voters one-by-one in his Hanford, California, office. His press secretary did not return a request for comment.
There's a simple reason for the GOP to avoid town halls: They generate bad headlines. During the Easter recess, Republican senators and congresspeople faced voters angry about efforts to replace the Affordable Care Act, the defunding of Planned Parenthood, cooperation with Trump and the confirmation of Supreme Court Justice Neil Gorsuch. 
Jimmy Dahman, director of Town Hall Project, said more town halls occurred during April's recess than in February as constituents pushed for greater access to their representatives — but not always town halls that included members of Congress.
Only seven of 52 Republican senators have held a town hall in April.
"There were a lot more empty chair town halls this recess," Dahman said in an interview, describing voters gathering to highlight a member of Congress' absence. "And more social media campaigns encouraging people to hold these events."
A spokeswoman for Ryan and a spokesman for the National Republican Congressional Committee, a group that helps Republicans get elected to the House, did not return requests for comment about town halls.