Trump's constant tweeting may be giving Twitter a boost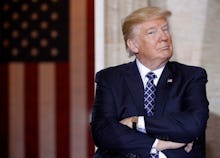 President Donald Trump loves Twitter.
It's how he wishes his "many enemies" a happy new year, how he bypasses the "unfair" media to communicate directly with the American people and — perhaps — a big part of how he won the White House.  
Twitter has been a big help to Donald Trump — but has Donald Trump helped Twitter?
The company — which has never turned a profit and continues to struggle with stagnation — announced its first-quarter numbers on Wednesday, and a so-called "Trump bump" appears to have brought the site more users in the first three months of 2017, but not the revenue it needs.
According to the struggling company, it gained 9 million users in the first quarter of 2017, growing by 3% from 319 million users to 328 million. That's good news for Twitter, as more users means more advertising revenue, but they still trail Facebook and Instagram — by a lot. Facebook boasts 1.89 billion monthly users, and Instagram, which is owned by Facebook, has 600 million. 
But Twitter also saw its daily active usage jump by 14%, suggesting that not only are more people using the platform, but those who are on it are using it more. 
Though Twitter didn't say specifically that Trump's constant — some might say compulsive — tweeting was responsible for the modest growth, but Chief Operating Officer Anthony Noto said that usage by politicians appears to have contributed to the gains.
"We believe Twitter is the best at showing what's happening in the world and what's being talked about," Noto said, according to USA Today. "Having the political leaders of the world as well as news agencies participating and driving that is an important element to reinforcing what we're best at."
Still, that "Trump bump" didn't translate into revenue. Not only did the company continue to lose money in the first quarter — for the first time since going public four years ago, as the Associated Press reported, the company actually saw its revenue drop from the previous year, plunging 8% to $548.3 million.
But Twitter says it is "encouraged by the audience growth momentum" — which is modest, but still progress, an analyst told USA Today — and the company's shares rose close to 12% in morning trading Wednesday, following the announcement of the quarterly numbers.