Bill Cosby's daughter pens a letter in defense of her father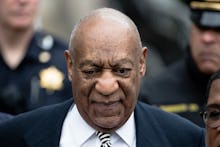 As Bill Cosby's case moves toward trial — during which only two of his 50 accusers will testify — his youngest daughter, Evin Cosby, published a letter in defending her father's character.
In the letter, published by the Hollywood Reporter, Evin claimed the media had publicly persecuted Cosby  and deemed him a rapist based only on the allegations against him.
"When people are so quick to cast hate and make accusations of horrific violence against my dad, they are callous in their carelessness about the harm they are causing to others," Evin wrote Wednesday.
The 40-year-old mother of two waxed sentimental about about what a good grandfather Cosby has been to her children and about the values he instilled in her and her siblings growing up.
"He is helping me raise my children and teach them family values," she wrote. "I know that my father loves me, loves my sisters and my mother. He loves and respects women. He is not abusive, violent or a rapist."
Similarly, Cosby's wife Camille appeared to more or less stand by her husband when she faced questioning during a court deposition in February 2016.
According to NBC News, Camille invoked spousal privilege — the right not to have to testify against your spouse — to avoid answering questions about Cosby, or declined to answer said questions altogether.
When pressed to answer questions about whether Cosby had been "deceitful," Camille said, "I'm not going to expound on this. I do not have to. I'm done."
When Cosby goes to trial on June 5, he'll face just three counts of felony aggravated indecent assault, but a judge has ruled testimony from a previous suit, in which he admitted to drugging and having sex with women, will also be admissible.
Evin, though, feels that the cases that won't make it to court are proof-positive that her father is innocent.
"I am pleased that finally we are seeing the whole picture and seeing cases and claims dismissed from court," Evin finished. "I just hope that those who pre-judged my dad are now willing to admit that they were wrong. "