'Overwatch' Officer D.Va: Everyone wants the new skin, but nobody wants to play 'HotS'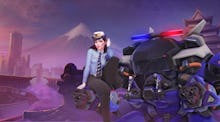 The Overwatch side of the internet was over the moon yesterday when a new skin for D.Va was announced. However, this was shortly followed by a slight sigh of disappointment upon discovering that the skin was only available to those who play Heroes of the Storm — that is, unless you're willing to wait a while.
In the time since the skin was announced, one thing has become clear: The Overwatch community really doesn't want to play Heroes of the Storm — and they're dragging the game through the mud.
Overwatch fans really don't want to play Heroes of the Storm
For some reason, Heroes of the Storm has never had a huge following. The game has pretty much been ignored in the esports scene, and just in general. Other MOBA games — like League of Legends — have a global following that doesn't seem like it's going to be replaced anytime soon. 
Blizzard's best efforts to cross-promote the game just seem to make fans laugh.
Popular Overwatch YouTuber, Stylosa was the first to make fun of the announcement by pretending he had never heard of Heroes of the Storm. 
Multiple fans joked about how Blizzard is constantly trying to get people to play Heroes of the Storm by pairing it with other titles. Way before this D.Va skin was announced, during BlizzCon 2016, Overwatch also announced a Genji skin that would be a reward for playing Heroes of the Storm. 
Rather than making jokes, other fans have taken to Twitter to with a simple message: they're really begrudging the fact that they have to Heroes of the Storm for a D.Va skin. 
Other rewards, like the free loot boxes for both Overwatch and Heroes of the Storm as well as a D.Va spray and players icon, don't seem to be worth it for these players.
If you decide to the take the plunge into Heroes of the Storm, you'll have until May 22 to get all of the rewards — including both the Oni Genji Skin and the Officer D.Va Skin. 
If you don't feel the effort will be worth it, check out our info on how to get the skins without playing Heroes of the Storm.
More Overwatch news and updates
For more on Overwatch, check out the rest of what Mic has to offer. Here is our Project Runway-style judging of every new Uprising skin, an unintentionally hilarious infographic showing the most popular Overwatch characters in each state, our definitive ranking of every Overwatch hero and a giant Overwatch FAQ for beginners.