10 things you didn't know about 'Austin Powers: International Man of Mystery'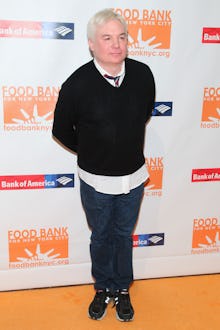 Austin Powers: International Man of Mystery debuted in theaters 20 years ago on May 2, 1997, and it has made the world a groovier place ever since. 
The classic comedy was created and written by Mike Myers, who of course starred in the film as several characters, including Dr. Evil. When the film debuted in 1997, it was only a modest hit but would go on to become a cult classic. 
The film's overall success eventually gave audiences two more sequels, Austin Powers: The Spy Who Shagged Me and Austin Powers in Goldmember. To celebrate the 20th anniversary of Austin Powers, here are 10 things you may not know about the movie. 
1. It wasn't a huge box-office success
It eventually turned into a hugely successful franchise, but the first film didn't exactly explode at the box office. When the film was released in 1997, it grossed a very modest $67 million worldwide, but the sequels were box-office smashes. 
2. It took Mike Myers two weeks to write the script's first draft
Myers admitted to the Hollywood Reporter that the basic idea for the script came together in just two weeks. "I wrote it in 1995, and the bones of the script came out in two weeks," Myers said. Although it came together fast, Myers was worried some people wouldn't get it at first — and he was right. The film's director, Jay Roach, gave him the script back with 10 pages of notes. "Everything he said made it better," Myers said. 
3. Lorne Michaels is kind of, sort of, the inspiration behind Dr. Evil 
It's been long rumored since the film was released that the Dr. Evil character is actually inspired by Myer's former Saturday Night Live boss, Lorne Michaels. 
A former SNL writer revealed to Entertainment Weekly in 1997 that the character was totally inspired by Michaels, from the attitude to the voice to the pinky. During an appearance on the Howard Stern Show, Dana Carvey, who first coined the impression, confirmed that Michaels was indeed the source material for Dr. Evil.
4. Jim Carrey passed on playing Dr. Evil 
Myers was not originally supposed to star as Dr. Evil, as Jim Carrey was first in talks for the iconic role. Myers asked Carrey to take on the part, but Carrey ended up passing on it and took on Liar, Liar instead, which was a box-office smash, so it worked out for everyone. 
5. Colin Quinn turned down the role of Scott Evil, and he regrets it
Attempting to include as much of his Saturday Night Live family in the movie as possible, Myers originally offered the role of Scott Evil to Colin Quinn. Quinn turned it down, and the role eventually went to Seth Green. 
"Mike Myers called me up to be the son in Austin Powers, but I was writing a screenplay at the time called Midnight Mass," Quinn revealed to the A.V. Club. "You've probably never heard of it, because it was never produced. ... I've never regretted anything except that, kind of. My nephews and nieces were like, 'You should have been in Austin Powers!'" 
6. Demi Moore executive produced it
One of the most interesting Austin Powers facts is that Demi Moore is a producer not only on the first film but on all three of the movies.
7. The movie is mostly improvised 
Roach revealed to the Hollywood Reporter that the script of the first movie was mostly unused. Green confirmed that the cast improvised a lot during filming, adding that the notorious "Shhh!" scene was a result of him and Myers riffing back and forth. According to Myers, "about 30 to 40% is improv,'' Newsweek reported.
8. The film had an MTV special 
Before the film was released in theaters on May 2, 1997, MTV aired the special, Austin Powers' Electric Pussycat Swingers Club. The special features some exclusive scenes from the film and tons of celebrity cameos, including Julianna Margulies, Rosie O'Donnell and Robert Wagner.
9. The infamous nude-blocking scene took 25 takes
Roach revealed that the famous nude-blocking scene between Myers and Elizabeth Hurley actually took 25 takes because it was so complicated. 
"I shot 25 takes of that. We kept thinking it had to play out continuously, so I just kept shooting until there was a take that every single thing lined up perfectly," Roach said. "It was a hilarious scene, but it was actually really stressful because we were starting to feel like we may never get it."
Hurley revealed that everyone was nude during the filming of the scene besides some tape. 
"Bizarrely, we shot it in the Scientology Celebrity Centre in L.A. It took a whole day, as it was one continuous take," Hurley dished. "Mike and I were nude but covered with little bits of red sticky tape. We all knew each other so well by then, so we weren't self-conscious." 
10. The film originally got an R rating 
Because of the nude-blocking scene, the Motion Picture Association of America originally slapped the film with an R rating. Roach had to go back and recut a lot. 
"We had to negotiate and cut," Roach said. "The nudity blocking was something the MPAA wanted to be sure we didn't go too far with: the cheeky phallic references, like Elizabeth biting the sausage and holding the melons up."
 Mic has ongoing movie coverage. Please follow our main movies hub here.