Snapchat On-Demand Geofilters: Cost, how to make them and everything you need to know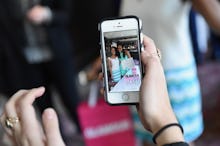 Snapchat users who haven't been living under a rock have likely noticed custom geofilters at private and public events alike. The colorful image and word overlays make snaps more fun and let users share what they're up to. The feature is not exclusive — anyone willing to shell out a few bucks can make their own "on-demand" geofilter.
Not surprisingly, the costs vary. When Snapchat first launched custom filters last year, the Verge reported geofilters started at $5. Rates increase based on variables like time and area covered.
"We price geofilters in our discretion based on a number of factors, including how long and over how large an area you want the geofilter to run," Snapchat wrote on its website. "You can see the price adjust as you manipulate the size, location, and runtime for the geofilter in the purchase tool."
You don't need any fancy skills to get your own filter. If you're creative, you can design your own. If you're not, you can select a premade one.
Users who have made their own go to Snapchat's website with their login information and upload a 1080-pixel-wide by 1920-pixel-high PNG file with a transparent background to the website. Then, they specify whether the geofilter is for personal or business use. Lastly, users create a "geofence" on a map for the area (at least 20,000 square feet) and set a time limit for how long the filter should be active — hours, days, a month.  
Once submitted, the company reviews the filter in one business day and gets back to users via email, notifying them of the status. While Snapchat says it takes one business day, TechCrunch reported getting approval in five minutes. They also reported that daily analytics are provided to users the next day.
To increase your odds of approval, it's important to know what Snapchat doesn't allow on geofilters. The list of limitations includes unauthorized logos or trademarks; photographs of people; personal information such as phone numbers, emails, URLs, Snapcodes and social media usernames; or drug-related content. Also prohibited are hashtags, lotteries, social platform logos and more than two lines of non-stylized text.