Within Trump's first 100 days, anti-Muslim incidents on US border have spiked 1035%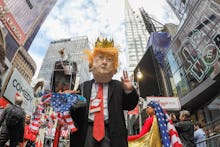 President Donald Trump has not even reached his first 100 days in office and a new report has documented a 1035% increase on anti-Muslim incidents on the United States border. 
The Council of American Islamic Relations, the largest Muslim American civil rights group, released preliminary data on Tuesday revealing an exponential spike in religious and racial discrimination compared to the same period in 2016. 
According to the data, there were a record number of 193 anti-Muslim incidents with U.S. Customs and Borders Protection from January to March 2017. Of all 193 incidents, 181 were reported after Trump's Muslim bans. Trump signed his initial Muslim travel ban on Jan. 27. The travel ban ordered an 120-day ban on refugees. The order also banned all immigrants and visa holders from seven Muslim-majority countries — Syria, Sudan, Somalia, Libya, Yemen, Iran and Iraq — for 90 days.
To put these numbers into perspective, there were 17 anti-Muslim incidents reported with CBP between January and March 2016. In 2016, there were 67 incidents. In 2015, the number was even lower with 35 total incidents. In other words, the total number of anti-Muslim incidents dealing with officials in government agencies more than tripled within the first three months of the new year and about two months into Trump's presidency.
Corey Saylor, director of CAIR's department to monitor and combat Islamophobia, said there's undoubtedly a direct correlation between the spike of anti-Muslim discrimination on the U.S. border with policies put forth by the Trump administration. 
"The jump in these cases, reported after the signing of the executive order, is clearly related to Trump implementing his anti-Muslim rhetoric from the campaign trail to U.S. policies," Saylor said in a phone interview.
The data is based off incidents reported to CAIR's intake team and include numerous cases of Muslim travelers having their global entry status revoked, their visas turned away at the airport and being subjected to intense discriminatory procedures like invasive religious questioning and detention. 
In January, several CAIR chapters filed complaints against CBP, the Department of Homeland Security and Department of Justice over religious tests at the airport or U.S. border. In February, a Canadian Muslim woman of Moroccan descent was turned away from the U.S. border despite having proper travel documentation after being asked if she practiced Islam, what mosque she attends, how often she visits the mosque, the name of her imam and her views on Trump. Several days later, Muhammad Ali Jr., the son of the world champion boxer, was detained and interrogated about his birth place, name and religion.
Saylor said that Trump's presidency has magnified the racial profiling and systematic violence that Muslims in the U.S. have experienced for decades.
"I think for a long time the government has securitized Islam and looked at all Muslims as a potential threat, as indicated, by some of the [religious] questioning," Saylor said in a phone interview. "What this shows is that the problem has existed for some time, and within the first 100 days of Trump's presidency, we have seen a magnification of the problem."
According to the American Civil Liberties Union, CBP and the U.S. Immigrations and Customs Enforcement Agency, are responsible for a series of civil rights abuses. Courses on racial and religious profiling Arabs, South Asians and Muslims have been mandatory sessions for government officials within these agencies. For example, according to a 2013 CAIR lawsuit against CBP and the FBI, a customs officer said all customs officials were required to attend a training session where they were "specifically taught to determine how to know if a Muslim is religious or cultural" based on color and patterns of a headscarf. Thus proving that while Trump's rhetoric and policies have a hand in the uptick of incidents, anti-Muslim discrimination on the U.S. border predates Trump's presidency.
Muslim Americans have seen an uptick of hate crimes and anti-mosque incidents since the start of the 2016 presidential elections. In November, just a few days after the 2016 election, the FBI announced there was a 67% increase in anti-Muslim hate crimes in 2015. Unfortunately, hate crimes reported to the FBI are severely underreported. Between Jan. 1 to March 26, there were 35 anti-mosque incidents in the U.S. Among the 35 reported cases, five mosques were set ablaze, including the Santa Barbara Islamic Society in California, within the first seven weeks of the new year.
The number of anti-Muslim hate groups are also on the rise. In February, the Southern Poverty Law Center reported anti-Muslim hate groups more than tripled last year. In 2016, there were a whopping 101 anti-Muslim hate groups. In 2015, there were only 34. Some individuals, classified as anti-Muslim hate activists by the SPLC, like Walid Shoebat and former FBI agent John Guandolo, provide trainings to law enforcement authorities 
Saylor said he fears that anti-Muslim incidents involving the federal government — an institution that aims to protect its citizens — will continue to escalate.
"I think we already witnessed a jump in bias incidents targeting all minorities in the last couple of years," Saylor said. "I think Trump's rhetoric certainly facilitates that and what we anticipate and fear is this rise of cases that involve federal government entities acting behind their anti-Muslim biases."