'Call of Duty: WWII' reveal and release date: First trailer shows gameplay … and Josh Duhamel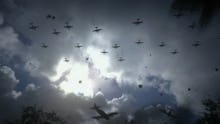 Last week, we found out there would be a worldwide reveal of Call of Duty: WWII — and now it's here. You'll want to sit down for this: It looks like a Call of Duty game set in World War II.
Call of Duty: WWII reveal: Trailer shows guns and Josh Duhamel
What's in the trailer? Nothing horribly surprising. You'll storm the beaches of Normandy yet again before killing boatloads of virtual Nazis, but this time it looks like there's a little more emotional heft to the proceedings. I'm pretty sure there's an M1 Garand in that trailer, so fans of old Call of Duty games will feel right at home.
But there seems to be more to this than just Band of Brothers: The Video Game. According to VG247, the story will largely follow an American squad in the war's waning years, but at one point, you'll play as a woman in the French Resistance, among other characters. 
The only major reveal here: Josh Duhamel is this game's celebrity casting choice. Call of Duty has had a big name in each release since Kevin Spacey in 2014's Advanced Warfare, and the Transformers actor fills that role here. 
Call of Duty: WWII release date for PS4, Xbox One and PC
Call of Duty: WWII launches on November 3 on PlayStation 4, Xbox One and PC. You can get into a private multiplayer beta later this year if you preorder the game.
More gaming news and updates
Check out the latest from Mic, including our deep dive into how female Overwatch players are dealing with online harassment, an article about a fan movement advocating for more same-sex romance options in Mass Effect, a personal essay to JonTron from another Iranian-American and an article looking at cultural diversity in Overwatch.