Ken Adkins, pastor who said Pulse victims deserved to die, gets 35-year prison sentence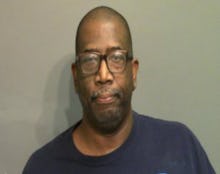 Ken Adkins, the pastor who said that the Pulse victims deserved to die, has been sentenced to 35 years in prison for child molestation, WOKV reported. He will serve life on probation once released. 
According to WOKV, Adkins watched two 15-year-olds have sex before engaging in unspecified sexual acts with one of the teens. He was arrested in August 2016 upon turning himself in. 
Adkins is known for his anti-gay comments, including a tweet sent in the days following the Pulse nightclub shooting saying that the victims of the shooting got what they deserve. 
Prior to the Pulse tweet, according to the Florida Times-Union, Adkins wrote on Twitter: "Dear Gays, go sit down somewhere. I know y'all want some special attention; y'all are sinners who need Jesus. [The Pulse shooting] was an attack on America." 
After his arrest, Adkins' wife sent a statement to the Atlanta-Journal Constitution calling the person Adkins molested "a deeply troubled young man."