Donald Trump plans to cut the Office of Global Women's Issues from the 2018 budget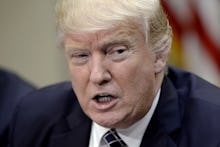 While his daughter was hyping his consistent advocacy for women, President Donald Trump was planning to cut the Office of Global Women's Issues, according to a State Department budget published by Foreign Policy on Monday.  
"Talk is cheap when you don't fund the efforts you tout," Paul O'Brien, Oxfam's vice president for policy, told the Independent. 
The budget documents show the $8.25 million allotted to the Office of Global Women's Issues in 2016 will be whittled down to $0 in 2018. Oxfam is calling on Congress, which will have to vote on the budget, to "stand against this reckless move," O'Brien said. 
A division of the State Department, the office promotes gender equality in U.S. foreign policy endeavors, funds educational and economic initiatives and endeavors to combat gender-based violence worldwide. Former President Barack Obama — or, to be more specific, former Secretary of State Hillary Clinton — established the Office of Global Women's Issues in 2009, naming Melanne Verveer as its first ambassador-at-large and later appointing Cathy Russell to the position in 2013. 
Trump's proposed cut isn't unprecedented: One of former President George W. Bush's first moves as chief executive was to cut the Office of International Women's Issues established by former President Bill Clinton in 1994. Notably, Bush also signed off on the global gag rule, cutting funding for women's reproductive health worldwide. Trump instituted his own extreme version of the policy during his first days in office. 
Under Trump, the Office of Global Women's Issues ambassador-at-large position has remained vacant. According to Musimbi Kanyoro, president and chief executive of the Global Fund for Women, that's pretty telling. 
"This proposed budget cut sends an alarming signal about the primacy the U.S. government accords to women's human rights around the world," Kanyoro told the Independent. "An action like this de-prioritizes women and girls and holds the threat that we will actually see global women's rights recede rather than advance under the watch of this administration."