Ann Coulter speech at UC Berkeley canceled again — for real this time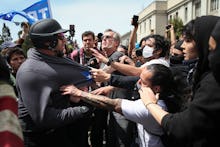 Ann Coulter cancelled a controversial scheduled appearance at the University of California, Berkeley, on Wednesday after the conservative student groups that had invited her there withdrew their support, the New York Times reports.
The conservative pundit told the Times that it was a "sad day for free speech."
"Everyone who should believe in free speech fought against it or ran away," she said.
Coulter had engaged in a fierce back-and-forth with the university during the week leading up to the event over whether or not school officials would be able to provide an adequate venue and security detail.
Fearing violent protests similar to those sparked by right-wing provocateur Milo Yiannopoulos in February, the school balked, and initially tried to push Coulter's appearance to May 2. 
The cancellation prompted the student groups that had backed Coulter's appearance to file a lawsuit against school officials on Monday, which claimed that their refusal to accommodate Coulter amounted to a violation of constitutional rights.
In a message to students on Wednesday, Berkeley chancellor Nicholas Dirks said that he feared that the school had become an unwitting target for firebrand speakers seeking to incite violence amid a growing national conversation about free speech on college campuses.
"This is a university, not a battlefield," he wrote, according to the Washington Post. 
"We must make every effort to hold events at a time and location that maximizes the chances that First Amendment rights can be successfully exercised and that community members can be protected. While our commitment to freedom of speech and expression remains absolute, we have an obligation to heed our police department's assessment of how best to hold safe and successful events."
The controversy surrounding UC Berkeley with regard to both Coulter and Yiannopoulos' appearances has drawn commentary from political figures on both sides of the aisle. 
After a rally in Omaha, Nebraska, on April 20, Vermont Senator Bernie Sanders told the Huffington Post that the school's refusal to host Coulter was "a sign of intellectual weakness." 
"If you can't ask Ann Coulter, in a polite way, questions which expose the weakness of her arguments, if all you can do is boo, or shut her down, or prevent her from coming, what does that tell the world?" he said.
In a February tweet, President Donald Trump threatened to withhold federal funds from the school for its decision to cancel on Yiannopoulos.