We need to talk about Riz Ahmed's phenomenal and perfect red carpet style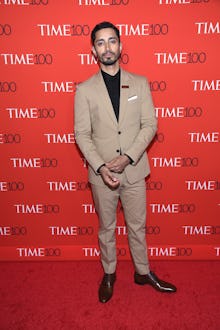 Every few months or so, a man steps onto a red carpet and changes the game, not only by dressing impeccably but by showing that men's fashion doesn't have to be formulaic or uninspired. 
The latest example of this is Riz Ahmed, the 34-year-old rapper and actor, who has been fully stunting on red carpets this past year, sliding into fun, inventive, refreshing, refined and exciting men's fashion on a regular basis. 
He cemented his status as one of the best-dressed men in Hollywood when he showed up to the Time 100 Gala on Tuesday in his own spin on a khaki suit, with a high-neck black, button-down shirt underneath. 
This is like when Barack Obama wore a khaki suit on Easter, but better. 
It was all very Rami Malek of him. It was all very Mahershala Ali of him. And it was far from the first time Ahmed has shown that he's one of those guys who remains fearless of fashion amidst a sea of men in dull, black suits. 
Months ago, at the Oscars, Ahmed wore a bright blue suit by Ermenegildo Zegna. 
Cary Grant, who?
George Clooney, what?
So yeah. 
Moving on, this is what Ahmed wore to the Elle Style Awards in February. 
A floral suit, y'all. 
A floral suit. 
Again, Ahmed has been at this fashion level for months and months. To the British Academy Film Awards, also in February (which is now our favorite month) he wore this charcoal grey suit by Burberry with a black satin collar.
To the Golden Globes, he wore a similar suit, but in a darker shade by Dolce & Gabbana. 
And yeah, he looked good. 
Our man Riz also has a knack, much like Rami does, of actually wearing suits and ties in surprising colors. 
Like when he wore a light blue shirt and a maroon tie to a Rogue One screening. 
Or when he wore a purple tie with a grey suit to this other Rogue One premiere. 
Overwhelmed?
We are too. 
But please, let us continue. 
Here is Riz Ahmed at a screening of the movie City of Tiny Lights in London, wearing one of the best suits that has ever existed. (Catch that maroon tie again.) 
Here is Riz Ahmed wearing a SHINY, BABY BLUE SUIT to promote his film Jason Bourne in Las Vegas. 
Isn't it crazy that Riz Ahmed invented the color blue? Who knew! 
And it's not just formal wear Ahmed gets so right. His more casual, dressed-down appearances have also been extremely good. Like, here he is actually wearing a bomber jacket while promoting a Star Wars film we will see only because he is in it. 
And here he is at Coachella, making a political statement via his T-shirt that reads "immigrant." 
A woke bae has been born, folks. Get excited. 
What have we learned today? Well, we hope you learned that Riz Ahmed should constantly be on red carpets, where he simply makes the world a better place. 
He should also call us.