'Frozen 2' has a release date. Here are 6 plot predictions for the sequel.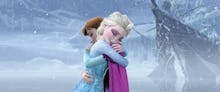 Just two short years after it was announced that there would indeed by a sequel to Frozen, a release date has officially been set. Frozen 2's cold front will hit theaters on November 27, 2019. Cue the happy love trolls! 
No doubt this is incredibly exciting news for kids (and adults) everywhere who fell in love with the original movie back when it came out in 2013. 
The original cast is also pretty stoked.
Besides the release date, not much is known about Frozen 2, aside from the fact that it will star Kristen Bell and Idina Menzel who played Anna and Elsa in Frozen. Chris Buck and Jennifer Lee, who directed the original, will also return to direct the sequel.
The movie's producer, Peter Del Vecho, gave a little insight into how to sequel will feel. "Now that we've been involved in it for awhile, what's exciting is it feels like it builds on the first movie," he told Entertainment Weekly. "You understand things better in the first movie after you've seen the sequel."
So there's a lot that's unknown, but Frozen fans have already been hard at work coming up with plausible predictions for the sequel. Here are six of the most interesting: 
1. The movie's showstopper may be a duet between sisters.
With such an iconic song like "Let It Go" in the first movie, there should be an equally compelling one in the sequel, but it has to be altogether different. Movie critics Tim Robey and Robbie Collin think that the answer will be a duet between Anna and Isla. 
"Possibly the sisters will sing a duet about being stronger together while they're being kept separate by some villain or evil force, taking verse about, then line about, and then coming together for a big, soaring chorus," Collin told the Telegraph. "Possibly I've thought a bit too much about this."
2. Elsa could end up with a girlfriend.
Disney did just have its first openly gay character in a film — Lefou in Beauty and the Beast — so a lesbian princess is not so farfetched. In fact, theTwitter hashtag #GiveElsaAGirlfriend was dedicated to exactly that idea. Sure, it would be a bolder move, but the news would probably receive no end of press as a result, and it might win the hearts of LGBTQ parents everywhere. Here's hoping Disney is open to having its lead characters explore love in all its forms, whether it's in this movie, or another. 
3. Elsa might die (but probably not forever).
Right after Frozen 2 was announced, publications started speculating whether or not Elsa would die in the sequel. While a bit morbid, it's not like Disney's a stranger to killing off main characters (cough, all the parents, cough). Not to mention Anna almost died in the first movie, so it would definitely balance things out. There are, however, a couple good reasons why, even if she did meet her end, it wouldn't be everlasting death. For one thing, she's magical. Another possibility is Anna discovers she has some secret healing powers that she received from being zapped in the heart by Elsa. Whatever happens, if Disney wants to keep kids from crying forever (and merchandise sales up), they're going to have to find a way to keep her around. 
4. Anna and Kristoff had a baby.
Considering it's Disney, this is just inevitable at some point, so why not have it happen in the sequel? The kicker would be if said baby is endowed with the same wintery gift her Aunt Elsa possesses. Then the story could be how Elsa teaches her niece to handle those powers. Remember the age-old saying, with great power comes great responsibility? Well, with this premise, get ready for some classic kid angst while power muscles are flexed and mistakes are inevitably made. 
Here's a fun Doll Story parody to help paint the picture of Anna's pregnancy.
5. Anna's going to get a new dress.
Fans will be expecting this, especially considering the short film Frozen Fever already features the ice princess in a fancy new outfit. It would only be fitting for her to sport a new look in Frozen 2. By then it'll have been six years since she showcased her crystal blue dress on the big screen — no doubt she's ready to score some new threads. 
6. Olaf and the big snow monster get together.
Here's another chance for Disney to show its support for the LGBTQ community, unless of course the snow monster ends up being female, which also isn't out of the realm of possibility. Wouldn't it be sweet if the monster that tried to kill Olaf in Frozen ends up being his much larger snow boyfriend in the sequel? Josh Gad's already voiced a gay Disney character, so it definitely wouldn't be a stretch on the acting side of things. Here's hoping we see inklings of something like this in his spin-off short coming out in December.
Mic has ongoing Disney coverage. Follow our main Disney hub here.