Fraud protection: How to get your money back if your financial information got hacked or stolen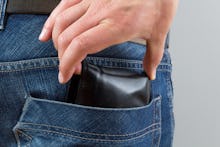 Credit card fraud is a multi-billion dollar industry, with more than $21.84 billion in credit and debit card losses reported in 2015, according to the Nilson Report. But thanks to generous fraud protections, consumers rarely get stuck with the bill. Instead, card issuers usually cover the charges.
To make sure you're not on the hook for the losses, you need to report fraudulent charges immediately. You also need to follow specific rules and requirements for reporting different kinds of fraud. Here's how to do it:
A fraudulent transaction on your ATM or debit card
It's especially important to report lost or stolen debit or ATM cards. If you wait more than two business days after any unauthorized charges are made, you'll be liable for up to $500 in unauthorized charges, the FTC notes. And if you wait more than 60 days from the time you receive a bank statement, any and all losses are yours to cover including additional losses if the thief also accesses accounts linked to your debit card. 
Your best bet is to report the loss as soon as you notice it, even if no fraudulent charges have been made. If you report the lost card before it's used by someone without your authorization, you will not be responsible for any unauthorized charges. But, if you wait until the bogus charges are made, you're liable for $50 of the loss even if you wait as little as two days. 
A weird charge on your credit card bill
The rules for credit cards are a little different, as your liability tops out at $50 under the The Fair Credit Billing Act. Check with your card issuer directly about how to report losses. Most (including Visa, Bank of America, Wells Fargo and Macy's, among others) have information online about how to report lost or stolen cards. 
Unauthorized charges can happen even if you never lose your card. If something weird shows up on your credit card bill, like a charge you didn't authorize or a charge for the wrong amount, your maximum liability is still $50, as long as you report it.
You need to alert your creditor to the problem within 60 days of the first bill you receive with an error. It's a good idea to report the loss to the creditor in writing — the FTC has a sample letter — and send the letter via certified mail with return receipt requested. 
Be sure to include copies of supporting documents, like sales receipts, and send the letter to the address the creditor provides for billing inquiries. 
Your account gets hacked
If your bank or credit card account is hacked, things get a little trickier as far as who is liable for losses. 
"If a third party somehow gains access to your account and transacts business that you would not approve of, you must contact the bank and your local law enforcement authorities, who have jurisdiction over this type of wrongdoing," the FDIC explains. 
Whether or not you get your money back may depend upon whether you did anything that made your account vulnerable and where the hack happened. 
If the security breach happened on your bank's end, then they are liable, Doug Johnson, vice president for risk management at the American Bankers Association, told Medscape. But if you got hacked because you accidentally posted your password on Facebook, you'll have a harder time getting your financial institution to reimburse you.
"If someone stole money out of your personal bank account, you'd likely be made whole by your bank if you had an individual (non-business) account, you weren't lax about safeguarding your information and you notified your bank promptly" Stuart Gerson, former acting U.S. attorney general under President Bill Clinton and shareholder at Epstein, Becker & Green, told Bankrate.
Your brokerage account gets compromised
Brokerage firms like E-trade, Fidelity, Schwab and Scottrade also provide at least some protection from fraud.
However, you may have to comply with special requirements to be protected. For example, Fidelity stipulates that you must report fraud within 30 days in order to be eligible for Fidelity fraud protections. 
And even if you do everything right, the amount you'll recover isn't always guaranteed. For example, "Scottrade will determine the type and amount of reimbursement you will receive under this guarantee in its sole and absolute discretion without disclosing the details of that decision." 
So, while you're protected from fraud on most types of accounts, you do need to be aware of fraud protection limitations and ensure you understand your responsibilities to avoid being on the hook if a thief steals your money. 
Sign up for The Payoff — your weekly crash course on how to live your best financial life. Additionally, for all your burning money questions, check out Mic's credit, savings, career, investing and health care hubs for more information — that pays off.